Byte has become one of the leading names in invisible teeth aligners and can save you thousands of dollars compared to using Invisalign or visiting an orthodontist.
How much does Byte really cost? To calculate the total cost just add the price of the impression kit with the cost of their invisible aligners. The total cost if you pay up-front will be $1795 if you use their $100 coupon. Don't want to pay upfront? You can choose to pay in 25 monthly payments with interest for a total cost of $2324. You can even use FSA dollars, and your dental insurance might even cover some or all of the expense.
Here's exactly how much you should expect to pay for Byte, and how to save:
Byte: Total Cost | Payment Plan | How to Save | Insurance Cover? | FSA | Worth It?
---
Byte Cost: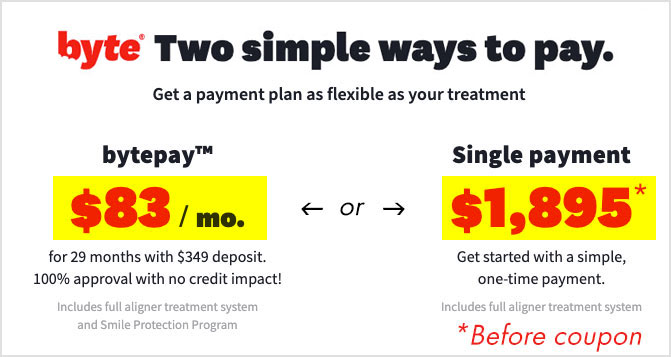 Pay in-full for $1795 when you use this coupon
Choose bytepay™ and pay $83 per month for 25 months including a $249 deposit for a total cost of $2324
Monthly payments: byte also accepts Splitit and affirm for payment. These services break the $1895 total into monthly payments. Splitit is interest-free and charges your credit card (Visa or Mastercard) 3-6 equal monthly payments. Affirm's financing is app-based and gives you the option to pay over 12+ months, but charges a significant interest rate.
All of these payment options include BrightByte teeth whitener plus your first set of retainers to keep your teeth from shifting in the future.

Does Byte charge extra for shipping? There is no additional fee for shipping, as 2-Day FedEx delivery is included in the price of the impression kit and aligners.
---
How Payment Works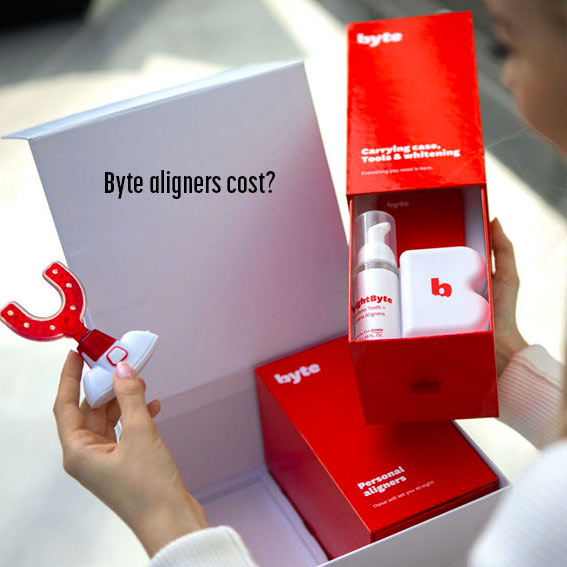 When you sign up at ByteMe.com, you'll first have to pay for an impression kit which costs $95 $29.95 with free 2-day shipping with this coupon.
After sending back your impressions one of their board-certified orthodontists will then review your case to confirm that you are a good candidate for their aligners.
If you are, Byte will send you an animated 3D model illustrating how they propose to align your teeth. If you choose to continue, you will have 3 payment options:
Pay in full in one payment
Choose to pay in 3 or 6 monthly payments w/ no interest
Pay in 25 monthly installments (with interest) using BytePay™
Tip: As you can see, paying in-full or choosing 3-6 monthly payments is more economical if you can afford to do so. Not only does it save you $429 versus bytepay™, but you can also use a $100+ coupon. Total savings: $529!
*If Byte determines that you aren't a good candidate for their aligners, they will refund the full price of the impression kit back to your credit card.
---
Payment Plan: How BytePay™ Costs an Extra $529:
Byte is proud to claim that they approve everyone for financing. However, choosing their payment plan will significantly increase the expense of their aligners!
Most people don't have the means to pay $1895 at once and therefore choose Byte's payment plan option. While those monthly payments are convenient, they include $429 of additional interest expense. Plus, coupons don't work towards BytePay, so you miss out on the $100 savings from their best coupon.
That means choosing the bytepay™ payment plan will cost you 29% more than paying all at once. Ouch! Talk about taking a bite out of your wallet!
If you can afford to pay all at once (or with 3-6 monthly payments), we recommend doing so!
---
How to Save on the Cost:
Choosing to pay-in-full or with Splitit isn't the only way to save on the cost of Byte. In fact, you can save an extra $100 on aligners when you use their featured coupon. (*Coupons do not work with bytepay™)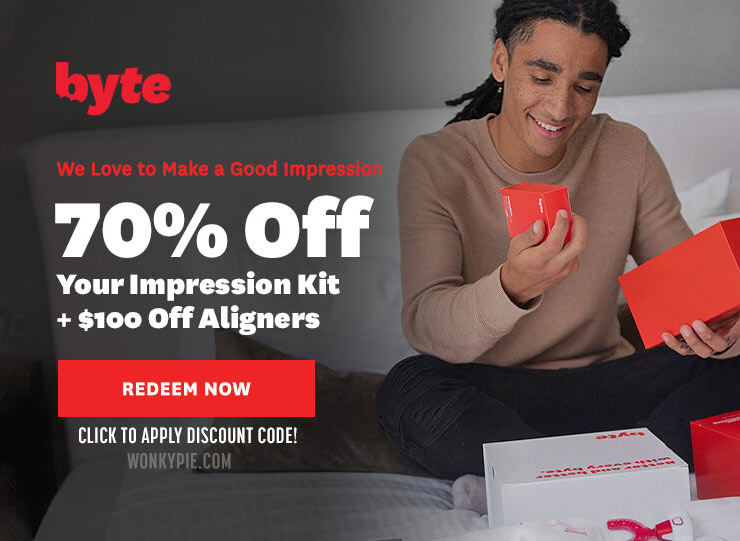 Byte also has special lower pricing for students, military, and first responders.
---
Does Health / Dental Insurance Cover Byte?
If your dental plan includes qualifying orthodonic coverage it should cover all or some of the cost of Byte. If so, Byte will help with your insurance claim so that you get the maximum appropriate reimbursement.
---
Paying With FSA?
Byte is a covered expense for almost all Flexible Spending Accounts. If your FSA account is tied to a major debit card you can pay using your card. If not, Byte can help you get reimbursed after you pay for your aligners.
If you don't have enough money in your FSA account, Byte can split the cost between your FSA and a credit or debit card.
If it's late in the year Byte can also allow you to purchase your impression kit and aligners together so you don't lose your annual FSA dollars. Learn more about paying for Byte with FSA here.
---
Is Byte Worth It?
Invisible braces and aligners are never cheap. However, companies like Byte can save you a lot of money when compared with traditional orthodontic appliances such as Invisalign which costs $3000-5000. (source)
I don't believe that in all cases Byte can completely replace the in-person experience and quality of a treatment like Invisalign which is conducted by a dentist or orthodontist.
My conclusion: If you can afford the price of in-person orthodontics, in-person is probably a superior experience. However, if you can pay-in-full for Byte, it's literally half the cost of traditional clear aligners!
*Related: How Much Does Noom Really Cost?
If you are considering Byte (aka "Byte Me") know that the cheapest way to sign up is to choose to pay-in-full and use their featured coupon.
---
Tip: We have some other great exclusive coupons for brands like Smile Direct, Noom, WW, and TurboTax, too!
Thanks for stopping by Black Alliance!