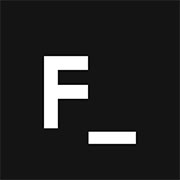 They say that "time is money," and that has fueled the popularity of ready-prepared meals from top brands like Factor 75. While meal delivery seems to be pretty expensive, consider that they shop, prepare, cook, and deliver healthy pre-portioned meals to your door.
That's a huge savings of time and might even save money based on what you're spending at restaurants and the grocery store already.
Factor plans, including keto, cost between $60-198 plus $9.99 shipping per week depending on the number of meals (4-18) you'd like and which promotion you choose. Here's Factor's 2022 pricing plus whether we think it's worth the cost:
---
Factor Meals Cost (Keto?):
Factor offers 4 meal plans at the same pricing: Chef's Choice, Keto, Calorie Smart, and Vegan & Veggie. Each plan has your choice of 4-18 meals per week. Here's how much Factor costs for the first box plus the price per week after the featured promotion ends.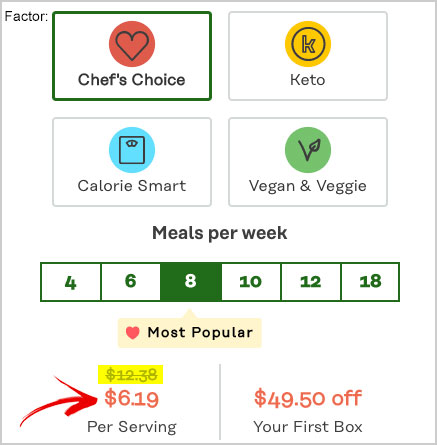 | | First Box*: (Promo) | Cost Per Meal: | Cost Per Week*: |
| --- | --- | --- | --- |
| 4 Meals: | $30 | $15.00 | $60 |
| 6 Meals: | $38.50 | $12.83 | $77 |
| 8 Meals: | $49.50 | $12.38 | $98 |
| 10 Meals: | $59.95 | $11.99 | $119.90 |
| 12 Meals: | $69 | $11.50 | $138 |
| 18 Meals: | $99 | $11.00 | $198 |
*Factor charges a $9.99 shipping fee per week!
As you can see, the cost per meal drops as the number of meals per week increases, and the shipping fee remains the same. For this reason, 18 meals per week is the most expensive option, but the lowest price per meal. Not sure how many meals you want? No problem, you can change your plan at any time.
Tip: The current promotion applies a discount to your first 5 weeks of any plan including keto! View the offer or see all offers here.
---
Is Factor 75 Worth It?
"Factor is some of the best-prepared meals we've tried." – CNET
Like all meal kits and meal delivery, Factor 75 seems pretty expensive. So, to decide if Factor is worth the cost, consider the following:
How many hours do you spend planning, shopping, and preparing meals each week?
How much money do you spend on groceries and dining out each week?
How does the quality and cost of Factor compare to other meal delivery or quick-serve meals?
After considering these questions, you'll have to decide whether the savings of time is worth the cost of Factor.
I spend an average of 5+ hours per week cooking and shopping for groceries. If my time is worth $30 an hour, then I should be saving $150+ by grocery shopping and cooking my own meals compared to prepared meals.
Also, consider that Factor meals are very nutritious and perfectly portioned so you're not going to overeat or have leftovers and unused groceries in the refrigerator.
Tip: Factor 75 is relatively expensive compared to brands like Purple Carrot, and Nutrisystem, but meal kits require cooking and most "diet" food isn't good. Also, diets like WW and Noom may look cheaper, but they don't include food!
Hmmm, now can you see why having nutritious meals delivered from Factor could actually save you money?
Regardless of whether you signup, I hope you now have a better idea of the cost of Factor meals and if it fits your monthly budget. If you think it might be, click here to apply a discount for the best pricing.
Thanks for stopping by Black Alliance!