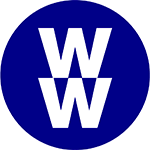 Over the years WW (Weight Watchers) has established itself as the most popular and highest rated commercial diet in America. The program has gone through a number of changes over the years including the recent rollout of myWW+ and new options for joining.
So, how much does WW cost? That depends on how much support you need, which WW membership you choose, and which promotion you sign up with. Here's more about WW (Weight Watchers) membership options plus how much they cost.
---
1. WW Membership Cost: Digital, Digital 360, Workshops, 1-1 Coaching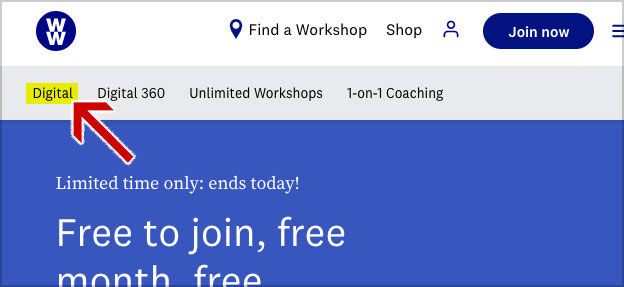 Here's how much WW (Weight Watchers) costs after any initial promotion ends: (Updated 2/22/21)
All WW memberships renew monthly at these prices after the initial 1-6 month promotional period or discount ends.
Tip: A $20 starter fee is also applied to all new memberships unless you have a coupon. You may also be charged an early termination fee of $20-65 if you cancel before the 3 or 6 month commitment ends. Additional taxes may also apply in certain states.
As you can see, WW memberships that include additional support, like Workshops and 1-on1 Coaching generally cost more than Digital.
OK, so now you know how much each plan will cost when it renews after your 1-6 month promotional period. Thinking of joining? Now it's time to choose the promotion that will save you the most money.
Here's how WW promotional pricing works when you first signup.
---
2. Choose a WW Promotion:

WW (Weight Watchers) offers one featured promotion every week, plus one semi-exclusive promotion that they give to select affiliates to promote. The exclusive deal is usually better, and often available for Digital and Workshops.
You can choose to lock-in the promotional rate for 1, 3, or 6-months. To see details of the savings, click on "Price breakdown" like this: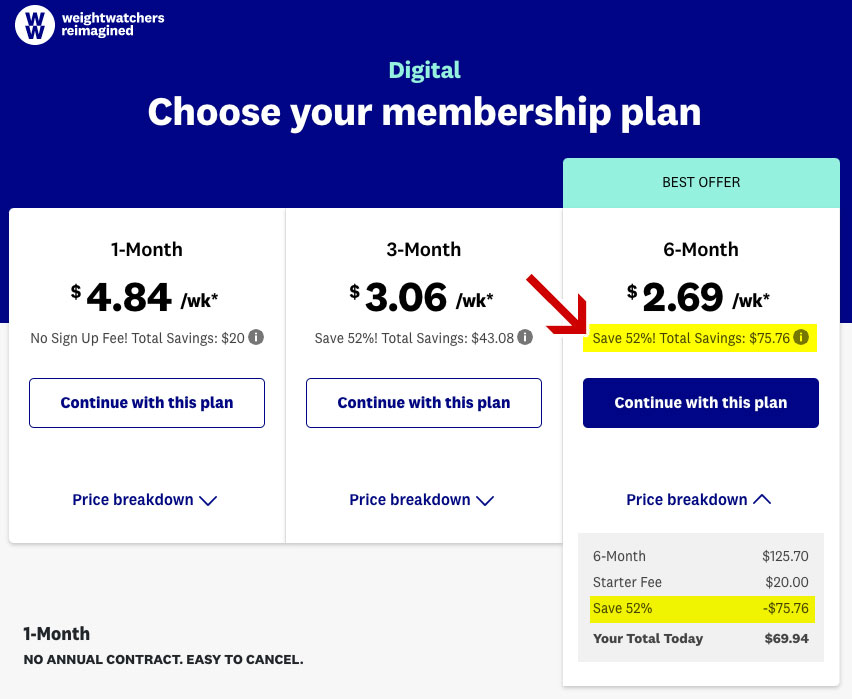 As you can see, you will save more when you choose a longer membership. However, if you are not ready to make a longer commitment, then the 6-month savings plan may not be best for your needs.
---
Total Cost of Weight Watchers?
Unlike diets that include meal delivery such as Nutrisystem, the cost of WW does not include any food. That means even though membership costs $20.95-54.95 per month, most of the monthly expense of following Weight Watchers will be the food you choose to purchase.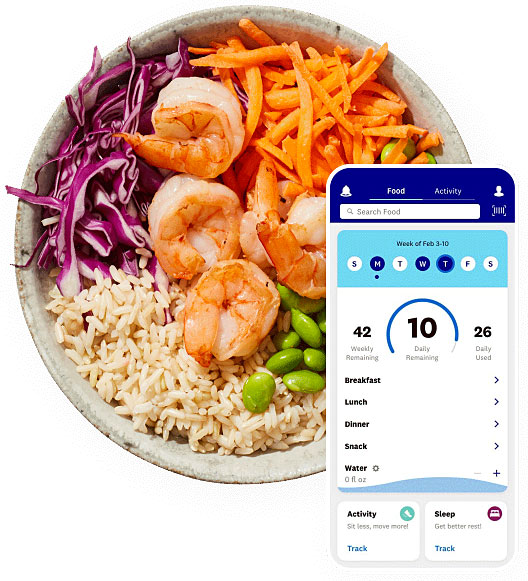 What WW members spend each month on food varies significantly, so it's hard to give an estimate of the total monthly cost. However, we will say that dining out at restaurants costs significantly more than cooking at home.
How much should you spend on groceries? Mint.com has a grocery calculator here
---
Conclusion:
If you are considering joining WW, it's important to imagine which of their plans fits best into your lifestyle. Those who are busy or prefer to go-it-alone might find that WW Digital or Digital 360 work best with their lifestyle.

Those who do better with support may want to invest in adding Workshops or 1-on-1 Coaching to stay on track. If you are afraid of commitment, you can also try WW free for a month, although it's not the best long-term savings.
Regardless of which plan you choose, you'll have web and app-based access to WW tools to track your meals, feel your best and stay inspired. If you do join WW, good luck!