Did you know that the Hamilton Musical has a strong connection to the Obama White House? In fact, you could say Hamilton as we know it may not have been born if it weren't for the 2009 White House Poetry Jam when the first song from Hamilton debuted.
Miranda and the cast of Hamilton would be invited back to the White House two more times to perform, and Lin-Manuel would even freestyle with President Obama in the Rose Garden after the 2016 performance. Here's a history of Hamilton at the White House starting in 2009 and ending with a performance of "One Last Time" in Obama's final days as President in 2017.
Hamilton White House Performances: 2009 | 2016 | 2017
---
1. Lin Manuel Miranda First Performs "Alexander Hamilton"– White House 2009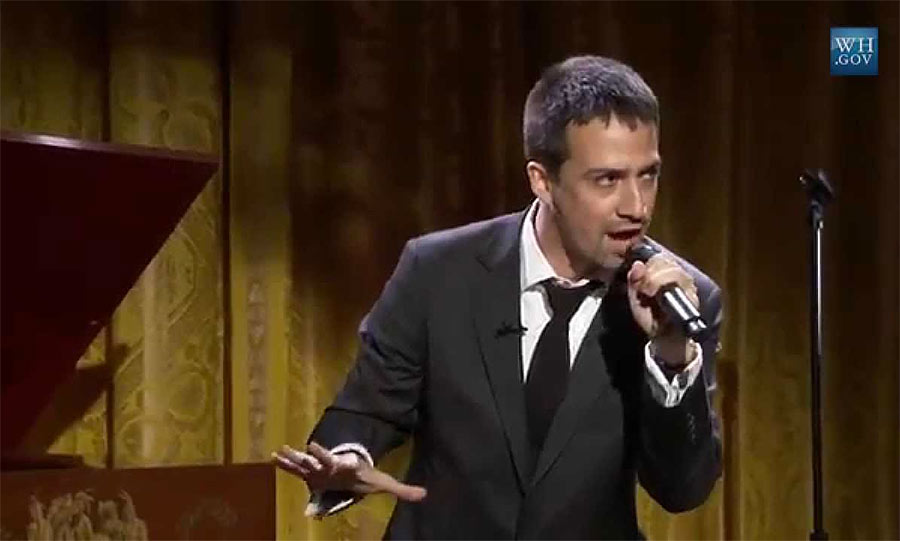 Here's the video of Lin-Manuel Miranda first performing an early version of, "Alexander Hamilton" at the White House Poetry Jam back before Hamilton was even intended to be a musical.
Lin-Manuel Miranda had been invited to take part in White House Poetry Jam; an evening of Poetry, Music, and Spoken Word. The summary on the White House blog for the event read as follows:
"Tonight, the President and the First Lady will host an evening celebrating poetry, music, and the spoken word. This event is designed around the theme of dialogue, showing how dialogue is important in every aspect of who we are as Americans and as human beings, and demonstrating how communication is a constant throughout the ages. The hope is also that this evening's gathering helps ensure that all voices are heard, particularly voices that are often not heard."
The itinerary included performances by legendary performers such as James Earl Jones and the participation of students from colleges including Georgetown and Howard University. However, Lin-Manuel Miranda wasn't even mentioned.
When Lin stepped on stage he began by saying, "I'm actually working on a hip hop album. It's a concept album about the life of someone I think embodies hip hop Alexander Hamilton… and I think he embodies the word's ability to make a difference."
The 4-minute performance concluded with a standing ovation led by President Obama, and the rest, as they say, is history.
Well, years later no one will argue that it was Lin-Manuel who stole the night with his performance from an embryonic hip-hop album with the working title of, The Hamilton Mixtape, that he was working on.
Here's Lin-Manuel talking to Jimmy Fallon about his nerve-wracking performance at the White House:
"If you want to see me at my most afraid, you can watch that video; because I know that Hamilton is like a bad elevator pitch. Rapping Founding Fathers? No!… What if I bomb in front of the President of the United States?" – Lin-Manuel Miranda
*Featured: Exclusive TurboTax coupon here!
---
2. White House Performance 2016: Alexander Hamilton, Schuyler Sisters, My Shot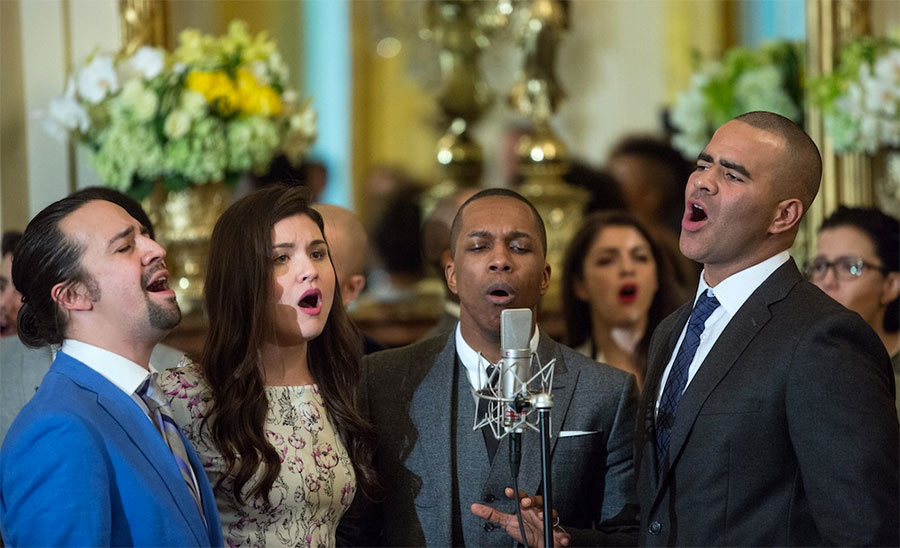 The Hamilton Musical went from a concept album to opening on Broadway on August 6, 2015, and was soon a global phenomenon. President Obama invited Lin-Manuel Miranda and the original cast of Hamilton to perform at the White House for a daylong celebration of the arts in America called "#Bam4Ham" on March 14th, 2016.
"We wanted to change things up here in the White House a little bit. We wanted to open the doors really wide to a bunch of different folks who usually don't get access to this place." – First Lady, Michelle Obama
Alexander Hamilton! We've been waiting in the East Wing for you. #Bam4Ham https://t.co/AD8S0nwo98

— First Lady- Archived (@FLOTUS44) March 9, 2016
In welcoming Hamilton back to the White House, President Obama said,
"Not to take undue credit or anything, but this is definitely the room where it happened, right here… The show reminds us that this nation was built by more than just a few great men and that it is an inheritance that belongs to all of us. That is why Michelle and I wanted to bring this performance to The White House… It is a story for all of us, and about all of us."
Here is the original cast of Hamilton performing a couple of songs including, Alexander Hamilton, and the Schuyler Sisters in the East Room of the White House:
The cast of Hamilton then performed the song, "My Shot" from the show:
Pretty amazing to see that original Hamilton cast early on in the phenomenon before they all went their separate ways and found success in other pursuits.
"We hope that the remarkable life of Alexander Hamilton will show our young people the possibilities within themselves" —@POTUS #Bam4Ham

— White House Archived (@ObamaWhiteHouse) March 14, 2016
The next day Lin-Manuel Miranda joined President Obama in the White House Rose Garden for a little freestyle rap:
3. Lin-Manuel Miranda Freestyles in Rose Garden
Here's Obama with some tough words on note cards for Lin-Manuel to put together in freestyle rap:
How do you incorporate "The Federalist Papers," "Carbon Footprint," and "Obamacare" into a freestyle rap on the fly? You probably can't unless you're Lin-Manuel Miranda!
"It's the Oval Office, oh my gosh I can't believe I'm there!
It's so much more intimidating than if it was square!"
*Question: Is TurboTax Really Free!?
---
4. Hamilton at the White House "One Last Time" in 2017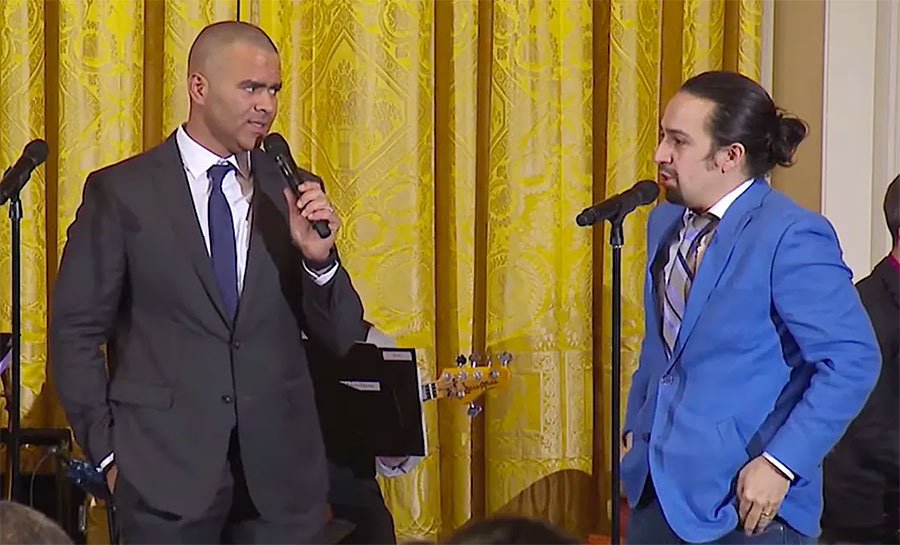 The Hamilton cast was honored to perform at the White House one last time during President Obama's final days in office to celebrate his legacy.
Here is Christopher Jackson and Lin-Manuel Miranda performing the song, "One Last Time" during their final visit to the White House.
And that concludes Hamilton in the White House.
*Related: Speaking of the government, we have an exclusive for $20 off TurboTax here!
---
Trump White House – Not Hamiton Fans!
That 2017 performance would be the last time Hamilton would be performed at the White House. On January 20, 2018, Donald Trump would be inaugurated as the new President and bring completely different values to the White House.
"There's no art in this White House. There's no literature, no poetry, no music… We are rudderless and joyless. We have lost the cultural aspects of society that make America great. " – Bruce Springsteen
In fact, according to producer Jeffrey Seller, Trump never asked for tickets to see Hamilton and referred to the show as, "highly overrated" in one of his tweets.
OK, well, I guess you can tell a lot about a President by what they think of Hamilton!