Noom is a hot weight loss app that has been called "WW for millennials." Of course, Noom would argue that they are much more than that. Developed by behavioral psychologists, Noom aims to create behavioral change for sustainable long-term weight loss. A key component of their wellness app is the role of personal coaching to keep you on track and motivated.
However, one thing Noom comes up short on is the clarity of their subscription pricing. In fact, after clicking around Noom's website it's not immediately clear what the monthly fees are or exactly how billing works.
Here's more about how much Noom costs after the free trial ends plus whether we think it's really worth the money.
Cost Per Month | Noom Mood Cost | Cost Per Year | Worth It?
---
Noom Cost Per Month in 2022: (3 or 6 Months?)
After you complete the 38-question free assessment, Noom will outline a personalized course for you of 3-6+ months and present you with a 14-day trial offer.
The length and the initial cost of your plan is determined by how much weight you'd like to lose. In other words, Noom will create a longer, more costly plan for those who need more time to reach their weight loss goal.
Here is the cost of Noom in 2022 after the trial ends plus the average cost per month for each auto-renew billing option.
1 month: ($60.00 per month)
2 months: $119 ($59.50/month)
3 months: $149 ($49.67/month)
4 months: $159 ($39.75/ month)
5 months: $164 ($32.80/month)
6 months: $169 ($28.17/month)
7 months: $174 ($24.86/month)
8 months: $179 ($22.38/month)
12 months: (Annual) $199 ($16.58/month)
The most common plan proposed by Noom is 4 months for $159.
When your billing cycle ends it will renew automatically at the same price and duration.
Tip: As you can see, the longer the billing cycle, the cheaper the average cost per month of Noom. Get started now!
So, how much will Noom cost you?
When I joined Noom my goal was to lose 15 pounds, so they created a 2-month plan for me to reach my goal and set a 2-month billing cycle for $99: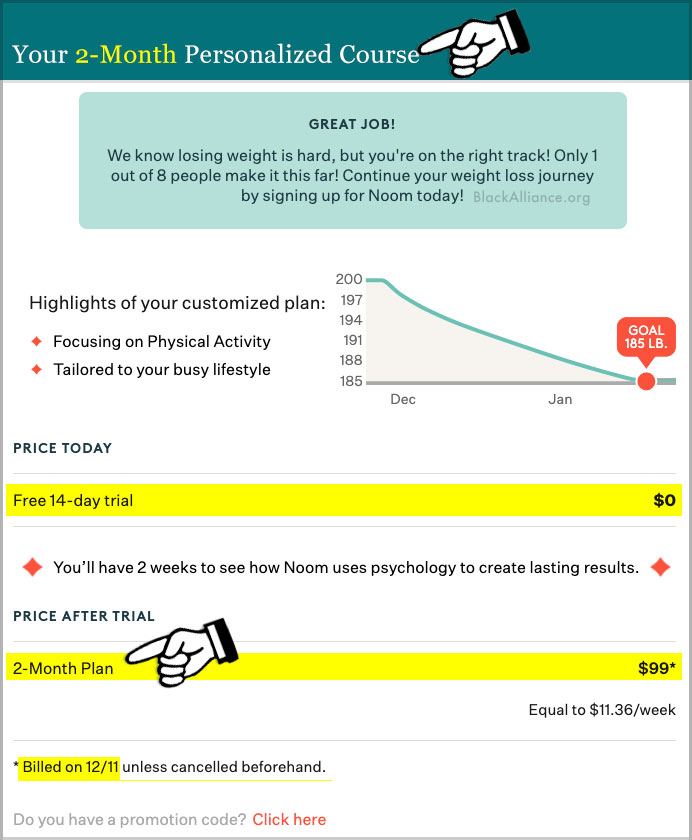 When I increased my weight loss goal to 20 pounds, Noom then created a longer and more expensive 3-month program for me. When I specified a 45 pound weight loss, they created a 7-month personalized course for me.
So, generally the more weight you'd like to lose, the longer and more costly Noom will be. However, those who stay on Noom longer will pay a lower average cost per month. Makes sense!
Tip: Want to reduce the cost per month? You can change your billing settings under "Account Settings" for the next billing cycle.
*Related: How Much Does Nutrisystem Cost?
---
Noom Mood Cost:

Noom Mood is billed as a 4-month auto-renewing plan for $149. That subscription price breaks down to an average cost of $37.25 per month or $1.25 per day, $8.69 per week, and totals $447 for a full year.
You can get started by trying Mood at no cost for the first 14 days!
"Noom Mood's guided activities and lessons are designed to give you a new perspective so that you can feel at peace and more present in the moment."
If you are currently enrolled in the Noom Weight program you can switch to Noom Mood under the same account and billing. However, users can't be enrolled in both Noom programs at the same time.
*Update for 2022: Noom now also offers a version of their program more focused on your mental wellness to reduce stress called, Noom Mood which costs $149 for 4 months. Learn more and start a 14-day trial here!
---
Noom Cost Per Year:
Here's a comparison of how much your first 12 months of Noom will cost on average based on your billing cycle choice. As you can see, a longer commitment drops the price per year significantly but is less flexible if you'd like to cancel.
The average annual cost of Noom depends on the billing cycle:
Monthly: $720 per year
2 months: $714 per year
3 months: $596 per year
4 months: $477 per year
5 months: $393.60 per year
6 months: $338 per year
7 months: $298.29 per year
12 months: $199 per year (Annual billing)
As you can see, paying upfront for a year of Noom saves a ton of money! However, if you quit Noom any time during those 12 months, don't plan on getting a prorated refund.
Can you pay for Noom monthly? Yes, you can choose to pay one month at a time but at $60 per month, it's more expensive!
So, with all this talk about pricing, let's ask an even more important question: is Noom really worth the money?
---
Is Noom Worth It?
When considering whether Noom is worth the expense, consider the following value equation.

The value of any wellness or weight loss program is relative to each individual and should ultimately be assessed worth on two criteria:
Relative Value: What is included for your money, and is that a fair price relative to competitors?
Return on Investment: How much are the positive benefits worth relative to the cost?
For me to determine whether Noom is worth it I must consider whether losing 15 pounds is worth an initial payment of $99 plus a 5-10+ minute commitment per day to follow the Noom app.
As far as relative value, Noom is most like the WW 1-on-1 Coaching Plan. Both programs include valuable tools, resources, community, and the support of a personal coach.
However, when the initial promotional period ends, WW Coaching is significantly more expensive than Noom. In fact, if you choose to be billed every 5 months, Noom costs about half the price, making it look like a good value.
More important in deciding how much Noom is worth is the return on your investment. A Nature Research Research study concluded that Noom worked for 78% of participants, but does Noom fit YOUR lifestyle?
If you believe that it will, then at less than $50 per month, I think the benefits of using Noom for the goal of sustainable weight loss will be a very good investment in your health.
---
Conclusion:
No single wellness program or diet plan is best for everyone. A diet only has value if it works for you and produces sustainable weight loss results from positive behavioral change.
That's exactly what Noom seeks to provide at only about $30-50 per month. So if you believe Noom fits your lifestyle, it's probably a good investment in your health. Personally, I spend a lot more than than every month on coffee!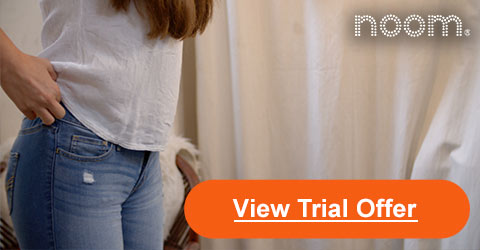 Anyway, if you do join Noom, I hope you're happy with the app! Thanks for supporting Black Alliance.