Noom is a hot weight loss app that has been called "WW for millennials." Of course, Noom would argue that they are much more than that. Developed by behavioral psychologists, Noom aims to create behavioral change for sustainable long-term weight loss. A key component of their wellness app is the role of personal coaching to keep you on track and motivated.
While Noom has revolutionized the entire diet industry. They also made a large donation to the NAACP, which is great. However, one thing they come up short on is clarity of subscription pricing. In fact, after clicking around Noom's website it's still not clear whether Noom is free or what the monthly fees are. Here's what you need to know about the cost of Noom including the free trial, subscription cost, and cost per year.
---
Is Noom Free?
No, there is no free version of Noom. While they used to offer a free "lite" version of their app (without the coaching feature), they no longer do. However, you can try Noom at no initial cost with their 14-day free trial.
---
Noom Starts With a Free Trial
A couple of years ago Noom gave select wellness blogs a free trial offer to promote. Then, during the Covid-19 pandemic, Noom started offering the same 2-week free trial to everyone. Essentially, you start by taking a free 60-second assessment of where you are now, and what your goals are. After Noom learns more about you they ask for your email address and then send you a link to a free trial offer.
If you begin, you are asked to enter your credit card info and then you begin the first 2 weeks for free.
This gives you some time to see if Noom is the right for you and your lifestyle and personality. If it's working for you, no need to do anything else as your credit card will be billed as soon as the free trial ends.
Not loving Noom? Cancel 24 hours before your free trial ends to avoid being billed. To do so, click "Help" from the app's main menu and select "How can I cancel my Noom free trial?" for detailed instructions.
If you are sticking with the program, here's how much Noom costs.
---
Noom Subscription Pricing (+ Cost Per Month) 2020
When you signup for Noom you will have several billing options. Like a WSJ subscription, the cost of Noom per month drops the longer you commit. In other words, if you have a fear of commitment and want to only commit to one month at a time, you'll be paying twice as much per month as someone who chooses to be billed every six months.
Here are the billing options with cost per month. (*All subscriptions are auto-recurring unless you cancel)
1 month (monthly): $59
2 months: $99 ($49.50 per month)
3 months: $129 ($43 per month)
4 months: $139 ($34.75 per month)
5 months: $149 ($29.80 per month)
6 months: $159 ($26.50 per month)
12 months: (Annual) $199 ($16.58 per month)
As you can see, commitment has its advantages when it comes to the actual cost per month. However, remember that the cost per month is not the most important consideration when choosing a billing option with Noom. The most important thing is the free trial convinced you that Noom is worth a long-term commitment.
*Coupon: Wall Street Journal Subscription: 50% Discount!
---
Which Noom Billing Option is Best?
When you choose a billing option you lock-in monthly pricing and are committed to Noom until the next billing date. For example, if you choose the most-popular 4-month billing option you can't get a prorated refund on that initial payment if you decide to quit.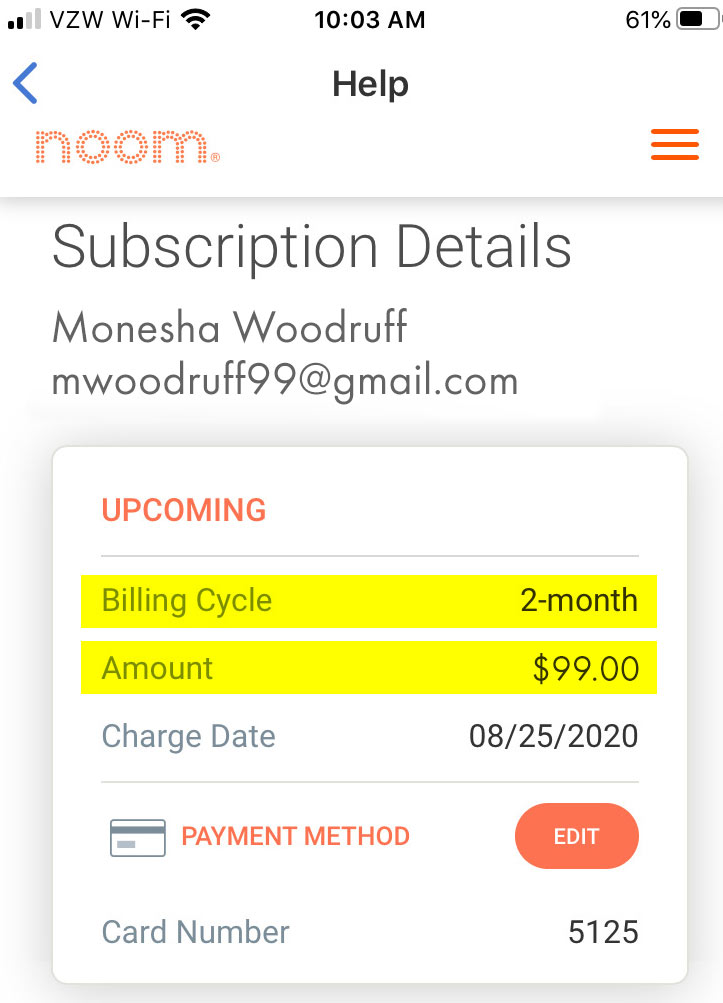 That also means that if you consider the annual billing option because of its ultra-low cost per month, you are committing to at least one year.
If you are incredibly excited about Noom and the free trial has convinced you that this is the app you want to be on for 6+ months, then I would recommend the 12-month commitment because of the lower cost per month.
However, if you like keeping your options open and don't want to go overboard on commitment, I would recommend the popular 4-month plan. However, you'll pay more for a shorter commitment. How much more will you pay? It's actually quite a significant cost difference over a year!
---
Noom Cost Per Year:
Here's a comparison of how much one year of Noom costs based on your billing choice:
Monthly: $708 per year
2 months: $594 per year
3 months: $516 per year
4 months: $417 per year
6 months: $318 per year
12 months: (Annual) $199
As you can see, paying upfront for a year of Noom saves a ton of money! However, if you want to quit Noom after a few months, cancellation of the 12-month plan will be more expensive than a shorter billing plan!
---
To Free or Not to Free (Trial)?
After doing my homework on the cost of Noom, I have a little advice for prospective customers.
Free Trial: First, take advantage of the free trial. Make sure you start it at a time when your schedule looks pretty open so that you can really try out all of the features and see how well it jives with your lifestyle. After a week or so ask yourself how well you are following it, logging meals and exercise, and communicating with your coach.
Not that into the program? Then cancel at least 24 hours before the free trial ends to avoid an unexpected charge on your credit card. There's no reason to cut it too close, and if you try to cancel your free trial with only a couple hours remaining, you might get billed. According to bad Noom reviews, this happens, and requesting a refund is a headache.
My second piece of advice is that you should choose a billing plan that's compatible with your needs and comfort level of commitment. If you value flexibility try the 4-month plan. If you fully intend to stick with Noom long-term, you'll save a lot of money each month with the annual billing. You can always switch billing near the end of the first year if you don't want to commit to a second year.
If you do join Noom, I hope you're happy with the app! Thanks for supporting Black Alliance.