TaxAct download codes and deals: TaxAct calls itself, "the best deal in taxes" and takes pride in being cheaper than TurboTax and H&R Block.
Best known for their free version, they also offer a suite of software editions for more complex taxes including Basic, Deluxe , Premier, Professional, and Self-Employed.
Get the best price on online products when you use one of these coupons and promo codes for up to a 10-20% discount on TaxAct! You can also save with their Military and student discount and get a $20 bonus when you refer a friend.
TaxAct: Coupons | Best Deal? | Professional Discount | How to use Codes | $20 Referal Bonus | Student Discount | Military Discount
Best TaxAct Promo Codes, Coupons for 2022:
















---
How to Get the Best Deal on TaxAct: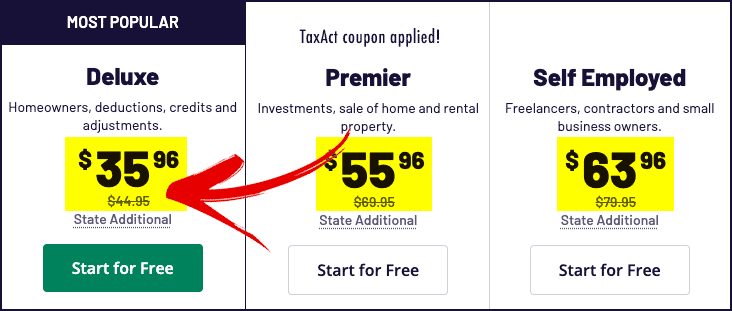 If you are using TaxAct to file your taxes, don't just go to TaxAct.com if you want the best price on their online products! Follow these steps for the biggest savings on TaxAct:
File early if possible, as the cost of online products and state fees are less before March 15th
Skip the promo codes on coupon sites as they don't work
Use their featured promotion for up to 20% off online products
Choose the best TaxAct edition for your needs
Skip Xpert Help as it adds $70+ to the cost
You can refer a friend to TaxAct for a $20 Amazon gift card
Tip: If you filed your taxes with TaxAct last year you may also receive an email offer with a special price to pre-order TaxAct before Jan. 1st
---
How To Use a TaxAct Coupon (No Promo Code Needed!)
TaxAct prides itself on being less expensive than tax Goliaths like Turbo Tax and H&R Block, who spend millions advertising their "supposedly free" software. Even though TaxAct isn't free for most customers, you can get up to an extra 20% off when you use a coupon. Here are two ways to get a discount on your order at taxact.com:
Instant coupons: No need to copy a coupon code, as discount pricing is applied when you click a promotional link or banner. After doing so, you should see the retail price crossed out and the coupon applied like this:
Use a Promo Code: TaxAct no longer requires promo codes for their discounts unless you were issued a code directly from customer support. So, don't bother visiting coupon sites as the codes don't work or are unnecessary!
*Related: TaxAct Helps Americans File Taxes for Less
Where do you enter a TaxAct promo code? TaxAct no longer distributes promo codes as discounts are now applied when you click on a promotional link or banner and visit their site. They no longer even provide a "promo code" field at checkout, so don't bother searching for codes!
Although the featured discount is best for most people, you may be able to get a TaxAct discount in other ways. Here are a few:
---
TaxAct Professional Discount
There is a discount available for TaxAct Professional Edition for tax preparers early in the tax season. In fact, tax professionals can demo the full-featured Professional Edition 1040 Bundle or Complete Bundle for free before buying.
Just click this featured link for CPAs, accounting firms, and tax professionals to see today's best deal.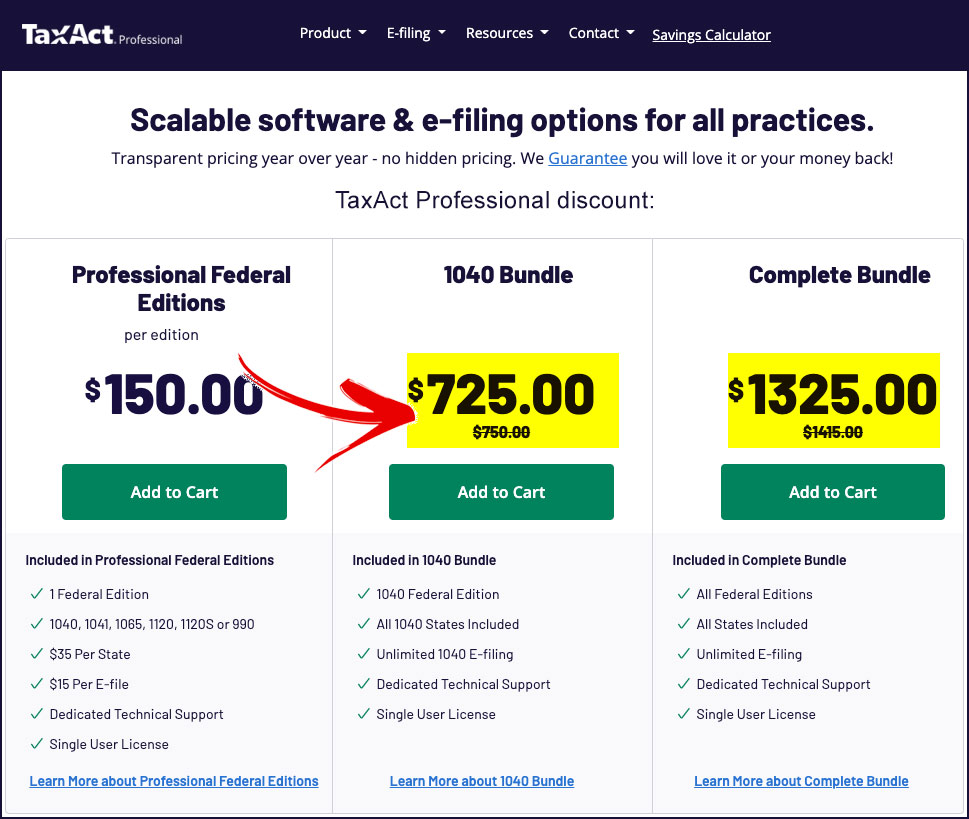 ---
Refer a Friend to TaxAct, Get $20 Amazon Gift Card!
This year TaxAct has a special promotion: refer a friend, and they'll send you a $20 eGift card for Amazon. Here's how it works: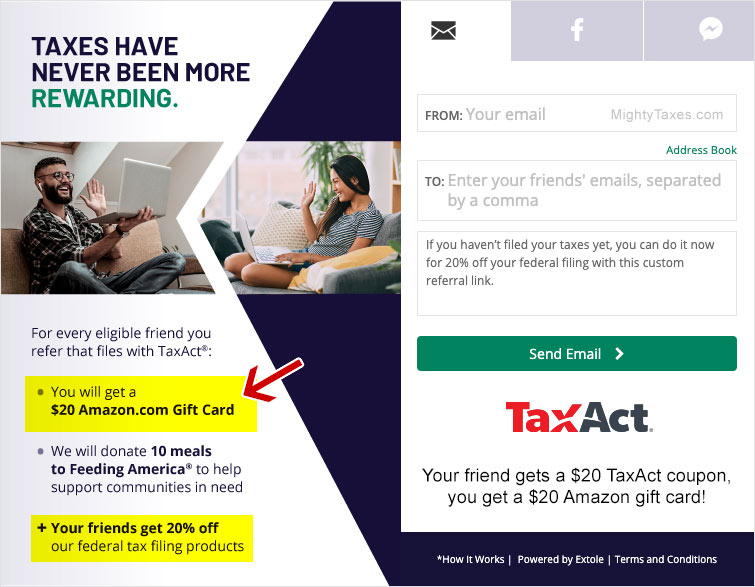 You can learn more and refer a friend now at: https://www.taxact.com/refer-a-friend
---
TaxAct Military Discount:
Active duty members of the U.S. military can now file their taxes free with TaxAct. To get the military discount just file as "active duty military" and enter an eligible Employer ID number during filing.
---
TaxAct Student Discount:
TaxAct does not offer a specific discount for college students. However, if you have simple taxes you can file free. The current 20% discount on Deluxe, Premier, and Self-Employed is also available to both college students and students of life.
Tip: Most students qualify for the American Opportunity Credit for up to a $2000 tax deduction (more) through TaxAct.
If TaxAct does offer a specific discount just for students, Black Alliance will post it here!
*Related: Can You Still Get Free Business Cards from Vistaprint?
---
More Tax Software Promotion Codes and Deals?
Not sold on TaxAct?
No problem! We have an exclusive discount from TurboTax for up to a 20% discount, as well as up to 20% off H&R Block and Quickbooks software (download or online).
In any case, good luck with your taxes this year!