TaxAct download codes and deals: TaxAct calls themselves, "the best deal in taxes" for a reason. Best known for their free version, they also offer a suite of software editions for more complex taxes including Basic, Deluxe Plus, Premier Plus, and Self-Employed.
While you can no longer download their software for free, you can use a promo code or coupon to get a 10-20% discount on TaxAct!
TaxAct Coupons: Best Coupons Now | $20 Referal Bonus | Free State File?
Best TaxAct Promotion Codes, Deals Now: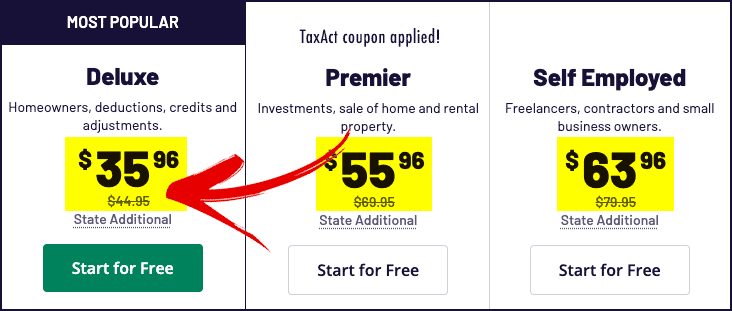 ---
How To Use a TaxAct Promotion Code or Coupon:
TaxAct prides itself on being less expensive than tax Goliaths like Turbo Tax and H&R Block, who spend millions advertising their "supposedly free" software. Even though TaxAct isn't free for most customers, you can get up to an extra 20% off when you use a coupon. Here are two ways to get a discount on your order at taxact.com:
Use a Promo Code: To apply a discount you used to have to enter a code at checkout. Now they don't, and most promo codes are issued directly from TaxAct to customers
Instant coupons: No need to copy a coupon code, as discount pricing is applied when you click a promotional link or banner. After doing so, you should see the retail price crossed out and the coupon applied like this:
Simple, right? I just had to delete the instructions about where to enter a promo code, because you really don't need to enter one anymore!
What TaxAct coupon is best for 2019-2020? The best deal today drops the price of all TaxAct online editions by 20% including Basic, Deluxe, Premier, and Self-Employed, (formerly "Plus," "Premium" and "Freelancer").
As you can see, the Self-Employed edition is sometimes not shown on the TaxAct.com homepage. Here's how to use a coupon for Self-Employed:
*Related: TaxAct Helps Americans File Taxes for Less
---
Refer a Friend to TaxAct, Get $20 Amazon Gift Card
This year TaxAct has a special promotion: refer a friend, and they'll send you a $20 eGift card for Amazon. Here's how it works: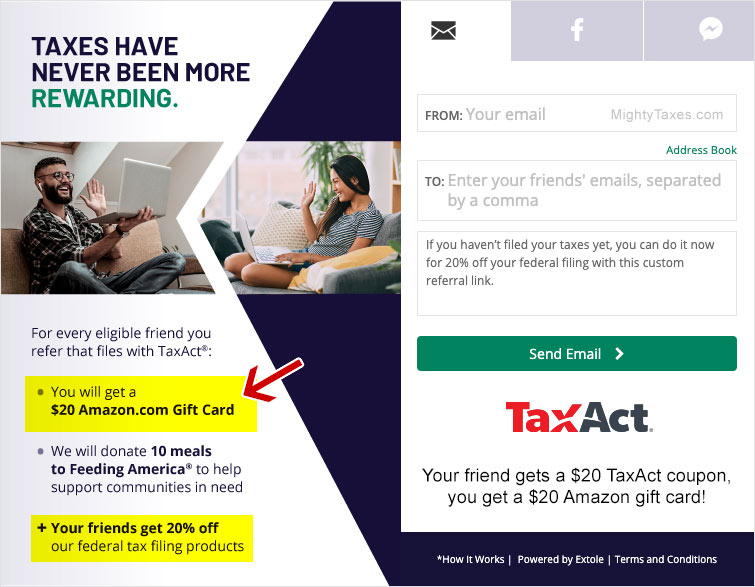 ---
TaxAct Discount Code for Free State e-File?
Sorry, there is no discount code to waive the State filing fee. The only way to avoid State filing fees is to file early! Look for a promotion early in the tax season that includes free State e-file, but after March 15th, these State fees are unavoidable, and there are no coupons that will waive the fee:
How much does TaxAct state filing cost? Here are TaxAct's State filing fees (per state):
TaxAct Free: $34.95
Deluxe: $54.95
Premier: $54.95
Self Employed: $54.95
*Did you know you can often file your taxes for free if you are a student or member of the military? Some banks and groups (like Chase Bank and the military) also offer deluxe versions of top tax software to their clients.
*Related: Can You Still Get Free Business Cards from Vistaprint?
---
More Tax Software Promotion Codes and Deals?
Not sold on TaxAct? Perhaps you're bitter that they are no longer free, and recently increased their prices?
No problem! We have an exclusive discount from TurboTax for up to a 20% discount, as well as up to 20% off H&R Block and Quickbooks software (download or online).
In any case, good luck on your taxes this year!