The South Beach Diet is a popular meal-delivery weight loss program recently ranked as one of the top-5 best commercial diets by U.S. News. It's also a favorite of celebrities like Jesse James Decker and Savannah Chrisley. While rankings and popularity matter, the most important thing to consider is whether the diet is best for your lifestyle and unique personality.
To help you better answer that question, let's look at how the South Beach Diet works, plus learn about pricing plus pros and cons from both good and bad user reviews of the program and the food. If you are thinking of joining, definitely check out today's featured coupons here. Here's our review of The South Beach Diet.
South Beach Diet: How It Works | FAQs | User Reviews | Food Reviews | Expert Ratings | Does It Work?
---
How the South Beach Diet Works:


Oh, so you just eat delicious food and frolic on the beach and the pounds melt off? Well, not exactly!
The South Beach Diet is a 3-phase, clinically proven low-carb total weight loss solution designed to transform your metabolism to burn fat. Created by Dr. Arthur Agatston in 2003, the program advertises weight loss without hunger or deprivation. The diet has evolved to now include prepared meal delivery, a tracking app, and coaching.
The diet is lower in carbohydrates and high in protein and fiber. The South Beach Diet provides about 1200-1500 calories per day which is inline with the number of calories recommended to lose about a pound per week.
The South Beach Diet is keto-friendly, but unlike keto and other true "low-carb" diets, The South Beach Diet doesn't restrict all carbs, and encourages eating the "good" ones.
These good carbs include fruits, vegetables, and whole grains that are low on the glycemic index, which measures how carbs affect your blood glucose. Good carbs can help steady your metabolism and blood sugar levels and keep you feeling full longer.
The diet also includes foods with healthy fats and omega-3 fatty acids like fish and dairy.
Tip: The South Beach Diet has 3 plan options: Silver, Gold, and Platinum for women and men. With auto-delivery the average cost is about $300 per month depending on the amount and variety of food included. You can also try out the program with their 1-week Reboot Kit for $99.
While most of your food is included, you'll be asked to supplement their food with some fresh groceries and DIY meals of your own. These DIY meals include 2 breakfasts, lunches, and dinners on your own each week. DIY meals add variety to your weekly menu and can include your own cooking or dining out with friends. Here's how the first month of the South Beach Diet, called Phase 1, works.
---
How the First Month Works (Phase 1)
Your first shipment includes 4 weeks of breakfasts, lunches, and dinners. The Gold and Platinum Plans also include snacks, shakes, and more food variety. You'll be asked to track all of your meals and activity each day on the South Beach Diet Tracker app.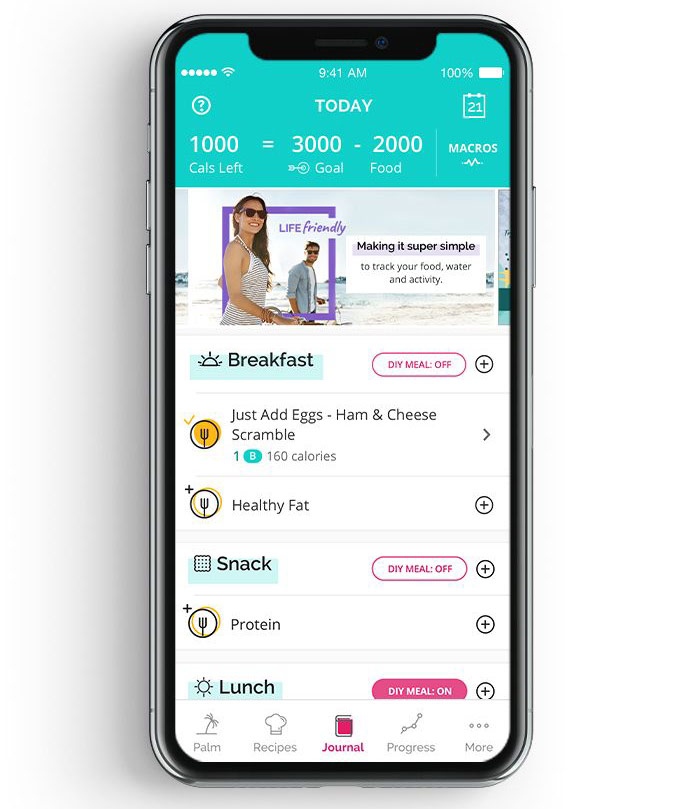 • Week #1:
Phase 1 of the diet kicks off with a week to reboot your body with specially selected, lower-calorie meals that are intended to transform your metabolism. You'll end unhealthy eating habits and curb bad carbs which will decrease cravings that are caused by them. The goal of the first week is to encourage your body to start burning fat instead of carbs.
By following their guidance, you can lose up to 7 pounds in these first 7 days, which can be highly-motivating!
• Weeks 2-4:
After the initial, more-restrictive first week, you'll have more flexibility and menu variety. Every month you'll get 4 weeks of food delivered to your door, and each day you'll continue to eat South Beach Diet's prepared meals supplemented with fresh groceries and DIY meals.
• South Beach Diet Menu:
Are you wondering what a typical day of food looks like during Phase 1 of The South Beach Diet? We put together this sample menu: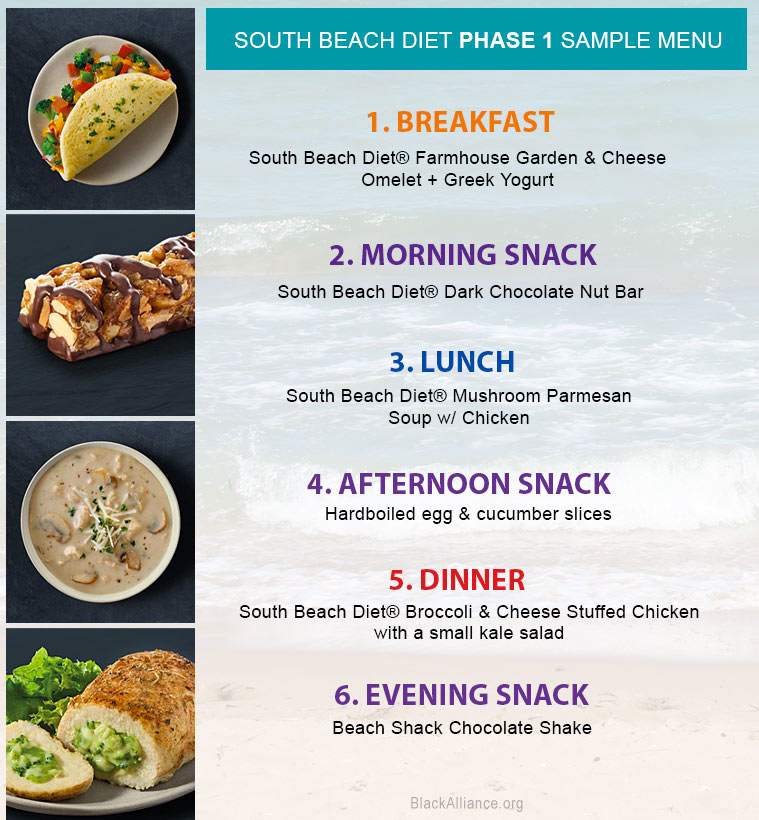 Want to see more of what's cooking at South Beach? You can view the entire menu here.
Remember, long-term weight loss isn't sustainable without positive behavioral change. The goal of the South Beach Diet is to teach you healthy habits that should last well beyond when you eventually choose to cancel the program.
---
South Beach Diet FAQs: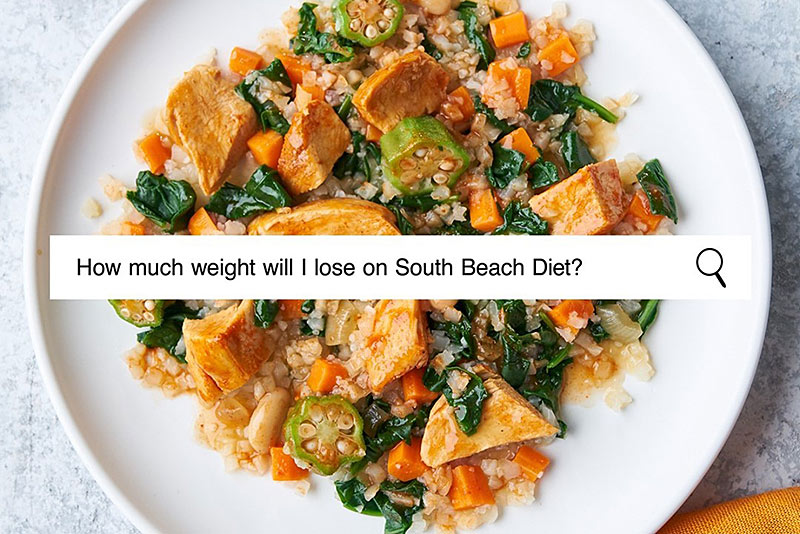 How Much Weight Loss? The South Beach Diet claims that you can lose up to 7 pounds during the initial Reboot Week, followed by steady weight loss of 1-2 pounds per week thereafter in Phase 2. In a South Beach Diet study the average weight loss was 5.8 lbs in the first 7 days.
Here are questions people ask most about the diet:
Is The South Beach Diet easy to follow? A panel of health experts gave the program an average rating of 2.7/5 for being "easy to follow". The relatively low score is due to the difficulty some people have with the menu restrictions and reliance on packaged food
Does the South Beach Diet have side effects? Making the switch to The South Beach Diet can cause some side effects due to the change in nutrition that you may be used to. Specifically, some users report symptoms of withdrawal by cutting their carb and sugar intake, and possible upset stomach or gas from increasing their fiber intake.
Do you need to exercise? The South Beach Diet recommends an average of 30-60 minutes of activity or exercise each day which can include activities like walking, yoga, dancing, or sex
Is The South Beach Diet keto? No, but the program is considered to be lower carb and keto-friendly. The diet does not treat all carbs equally, and encourages good carbs like fruits and vegetables. The SBD doesn't restrict carbs as much as keto which slashes carbs to less than 50 grams per day.
OK, so hopefully you have a better idea of how the South Beach Diet works, so let's see what we can learn from good and bad reviews to imagine whether the South Beach Diet will work for you.
---
South Beach Diet User Reviews:
While review sites like Consumer Affairs and the BBB (Better Business Bureau) are worth visiting, the best place to find honest South Beach Diet Reviews is actually on their own website. That's because they have hundreds of sortable positive and negative reviews from verified customers.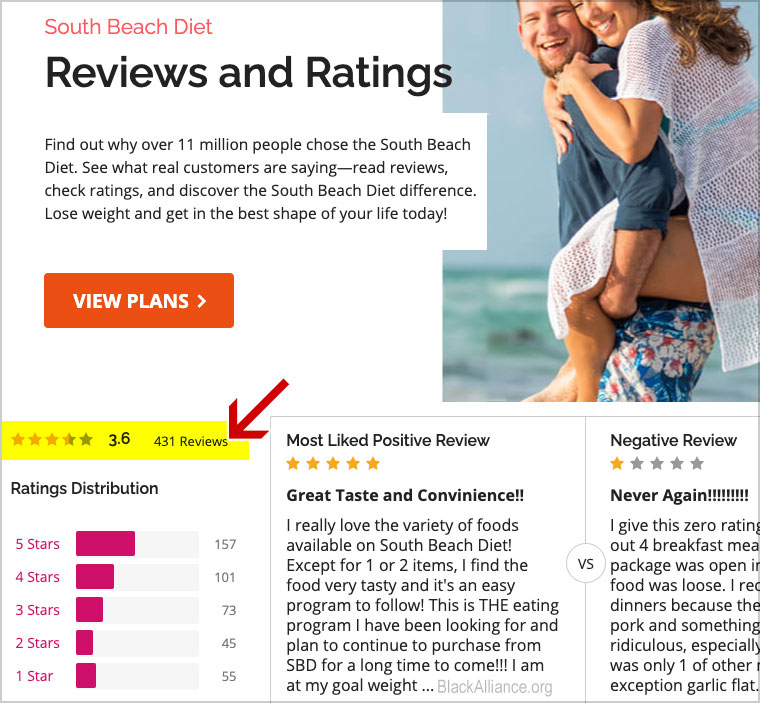 Skimming through these copious reviews is a great way to learn about the pros and cons of The South Beach Diet. In fact, I find that the bad reviews can be more helpful than the good ones!
• Pros and Cons:
After reading South Beach Diet reviews it's clear that there are pros and cons to the diet.
Pros: By providing pre-portioned nutritionally-balanced food and telling you what to eat and when, The South Beach Diet takes the guesswork out of losing weight. The daily restriction of calories means that you'll probably lose 1-2 pounds per week
Cons: The transition from "real food" to prepared meals can be difficult, and not everyone likes a structured "heat and eat" menu with restrictions.
Customers who find success on The South Beach Diet seem willing to make compromises and value gaining control of their eating more than the quality and variety of food. So, what do people complain about most in their review?
• Biggest Complaint?
If you read reviews you'll find a couple of common complaints:
Cancellation Fee: Customers who weren't aware of the cancellation fee are likely to post a bad review online. Before joining The South Beach Diet, familiarize yourself with their policy!
Food taste: Some people don't like switching from "real" food to the pre-packaged kind. If you can't imagine eating mostly packaged and frozen "heat and eat" meals, then I don't recommend The South Beach Diet!
Cancellation Policy: If you cancel South Beach Diet auto-delivery before paying for your second order you'll have to pay a $70 cancellation fee. You can cancel after the second shipment without penalty by calling customer service at 1-888-841-2620.
Since prepared food is central to the South Beach Diet, let's look at food reviews.
---
Food Reviews:
Is South Beach Diet food good? There are customer reviews and nutrition facts available for every meal and snack on the South Beach Diet menu. To see food reviews, just click on the View Menu section: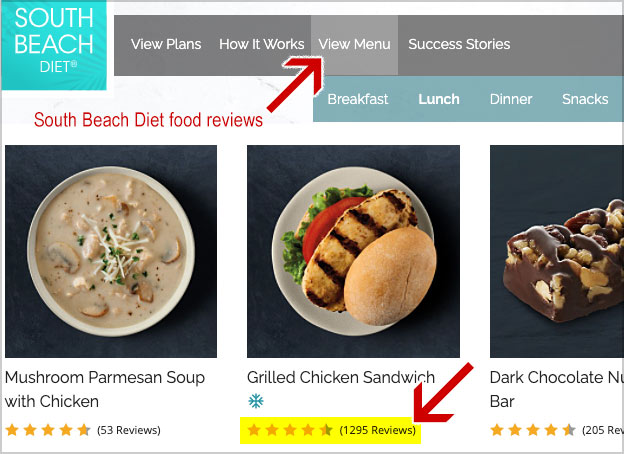 Click on any food, and you'll get detailed information including reviews, ratings, and nutrition facts like carbs, protein, and calories.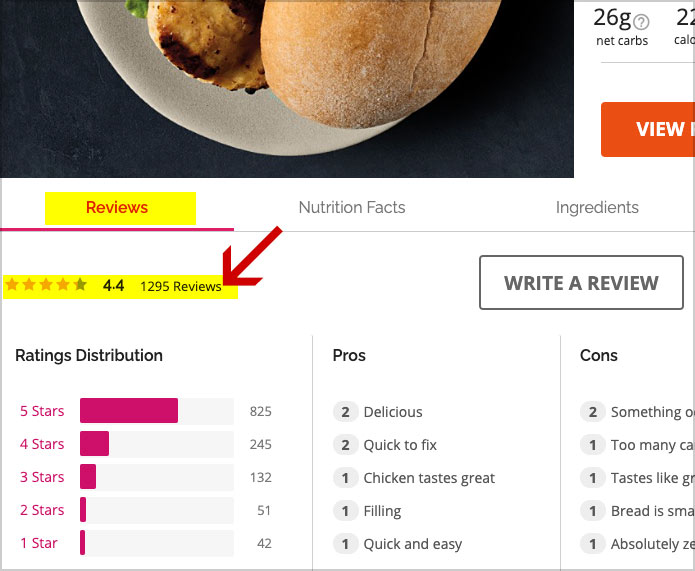 As you will see, some food is better than others, so be sure to customize your South Beach Diet menu to avoid foods that are low-rated or that you don't like.
OK, we've heard from customers, now let's see how experts rate The South Beach Diet.
---
Expert Ratings, Reviews:
I believe the U.S. News website is the best place to read expert reviews and ratings for The South Beach Diet. That's because every year they ask a panel of health and diet experts to review and rank a list of the best 35 diets. Here's how the South Beach Diet ranked: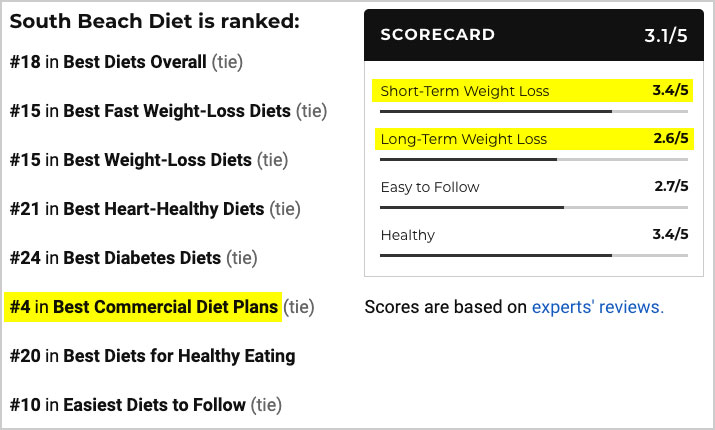 The South Beach Diet was ranked an impressively as the #4 Best Commercial Diet Plan, ranking well for Short-term Weight Loss and Healthy. However, the ratings aren't all good as the diet ranked relatively low for Long-Term Weight Loss and being Easy to Follow.
Why is that? It seems that while the switch to a more restrictive diet promoted impressive short-term weight loss, many customers tired of the menu restrictions and structure. Some experts even described the diet as "difficult and restrictive" which seems to cause many people to quit after only a couple months.
---
Does South Beach Diet Work?
Does the program really work? If we combine what we learned from user reviews and expert ratings we can get a good idea of whether the South Beach Diet really works. Consider this:
Out of about 500 reviews, 60% of customers give the diet 4+ stars out of 5 inferring that it worked for them. However, 23% gave it only 2 or 1 star in their review inferring that it didn't work for them
Experts give the South Beach Diet diet an average 3.1/5 rating. For weight loss the diet is rated highly short term, but lower for long-term weight loss
I think that this data confirms that The South Beach Diet doesn't work for a number of people because it's not compatible with their personality and lifestyle. While the science says that if you follow the diet you'll lose weight, I believe that ultimately your unique personality will likely determine whether or not the diet will work for you.
---
Conclusion:
A lot of people who try The South Beach Diet have already tried the DIY diets without success. It might be that these cheap DIY diets offer too much freedom and not enough structure and support?
This reminds me of how people have different needs when it comes to exercise. Some people can get up early in the morning and run for 3 miles while others prefer working out in a gym with the help of classes or a personal trainer. So, I think the most important question to ask yourself is:
How much does structure, convenience, and food-restriction matter to you?
The South Beach Diet takes the guesswork out of cooking, portioning, and calorie-counting, but it imposes restrictions and tells you what to eat and when. That approach works for some people, but not others!
So, instead of looking at a success rate or asking whether The South Beach Diet works, it's more important to imagine whether the diet will work for YOU!
If you're thinking of joining, here's their best deal, plus we have promo codes for free food!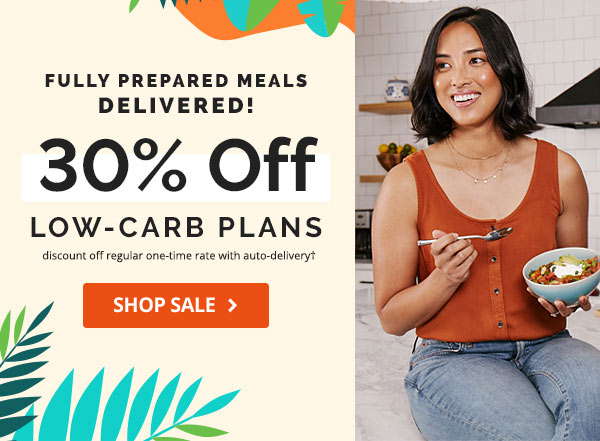 If you's like to consider a similar South Beach Diet alternative, we recommend Nutrisystem and have coupons here. If you don't like the idea of restrictions and want to take more of a DIY approach, then we recommend Noom Coach and WW.
Thanks for stopping by Black Alliance!