Jenny Craig is one of the top names in diets, and was recently rated the #2 commercial diet in America! The program is clinically proven and includes delicious foods you'll love plus optional 1-on-1 coaching. however, at a cost of $13-26 per day, it's not cheap!
Thinking of joining? We can help you get the best deal on Jenny Craig when you sign up. Here's how much Jenny Craig costs plus today's best specials and promo codes for up to an extra $20 off!
Jenny Craig: Coupons | Cost | Best Deal
Best Jenny Craig Promo Codes, Specials: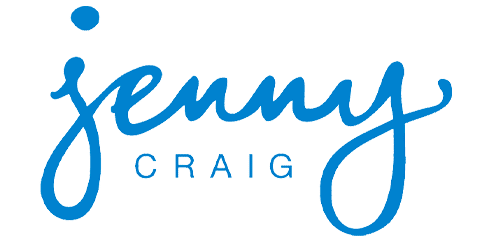 ---
Jenny Craig Cost:
Jenny Craig has 3 plan options: Simple Meal Plan, Essential Meal Plan, and Rapid Results Max™ Weight Loss Plan. The price is determined by how much food is included, plus Rapid Results Max includes personal coaching. Here's the current pricing: (Updated 1/01/21)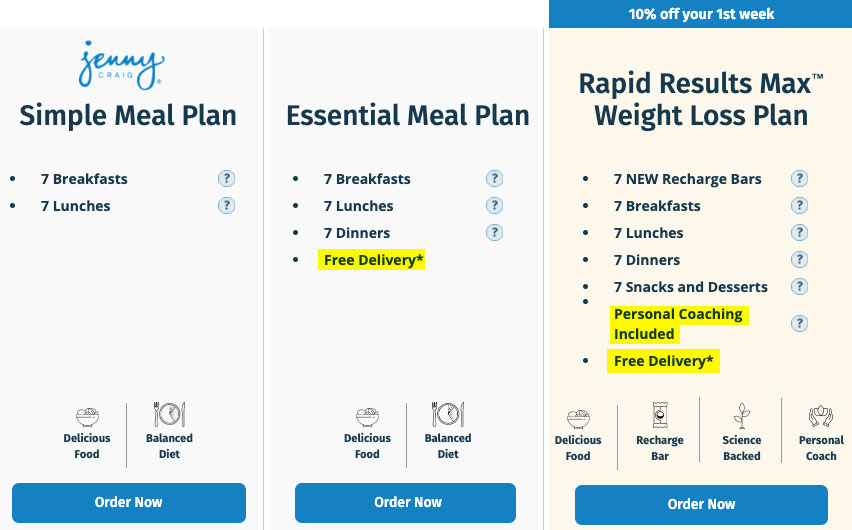 Simple Meal Plan: $12.99/day, $90.96/week, $394.16/month
Essential Meal Plan: $20.78/day, $141.39/week, $612.69/month
Rapid Results Max™ Plan: $25.99/day, $181.96/week, $788.49/month
As you can see, the Essential Meal Plan and Rapid Results Max include free shipping. The only way to get free delivery for the Simple Meal Plan is to pay for 2 weeks at a time.
Cost per year? That means Jenny Craig costs $4730-9462 for 52 weeks!
*View pricing at JennyCraig.com now
---
How Promo Codes Work:
Did you know that you can save an extra $20 or more when joining Jenny Craig if you use a promo code?
In fact, while browsing on jennycraig.com you might get a pop-up window with an offer for $15-20 off your first week with email signup like this: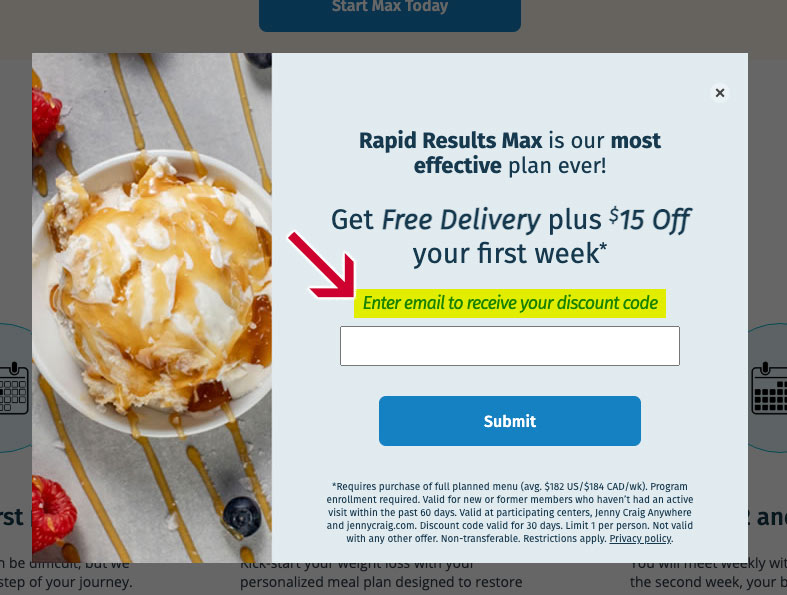 After getting a valid code online or by email, just enter it on the first page of checkout like this: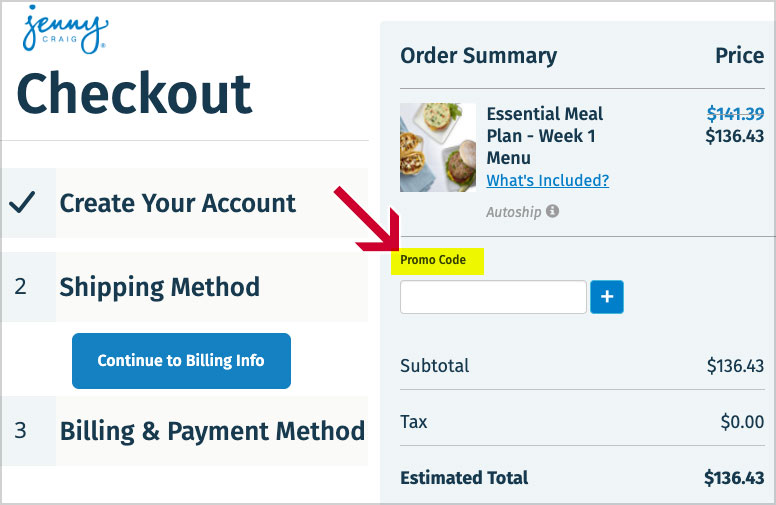 Tip: Most promo codes are for new customers and work towards their Rapid Results Max Plan only. (Not Simple or Essential Meal Plans) The most you can save with a code is usually $20.
If the promo code is valid, you'll see the discount applied under your order summary like this: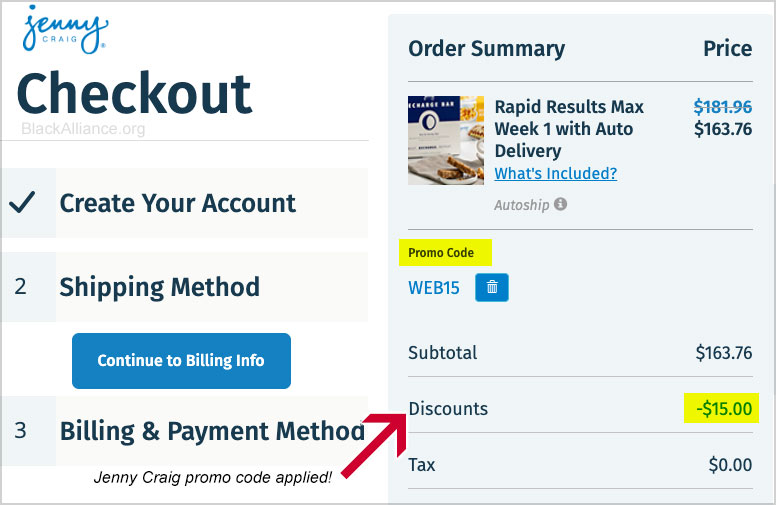 The discount from a code applies to your first order, and all future orders will ship free with auto-ship.
---
What's the Best Jenny Craig Sign Up Deal?
Recently Jenny Craig ended their confusing pricing and simplified things down to three plans. This is good for a number of reasons, including that they currently offer a 10-15% discount on these plans.
The best and most popular plan is their "Rapid Results Max" Weight Loss Plan which includes 3 meals a day plus snacks, bars, and personal coaching. You also get 10% off your first week plus can use a promo code for up to an extra $20 off. While this plan is the most-expensive, it also gives you the most value for your money.
Cheapest way to join: Although the cheapest way to join is with the Simple meal plan, I wouldn't recommend it to most people. Not only does it only provide two meals a day, it also does not include personal coaching, which is central to the potential success of the diet.
To get the best deal on the Rapid Results Max Plan follow these two steps:
Take advantage of the promotion on the homepage for up to 15% off
Then, use the featured promo code at checkout for an extra $20 discount
That double-discount is currently the best sign up deal!
---
More Diet Coupons:
After researching the Jenny Craig diet and Rapid Results, you might decide that it's not the perfect fit for your lifestyle and needs. That's OK! No single diet is best for everyone, and the good news is that we can recommend alternatives to Jenny Craig. Here are some exclusive deals that we have for diets:
---
Conclusion:
As far as meal-delivery diets go, I'd consider Jenny Craig to be the "Cadillac." That's because they offer better-tasting food and optional personal coaching, so it isn't the cheapest diet by any measure.
However, no single diet is best for everyone at any price. If you can afford a premium weight loss program like Jenny Craig, then you're probably going to have a better experience and enjoy the food more than other commercial diets like Nutrisystem and South Beach.
The good news is that you can always save money when you join Jenny Craig using a promo code. We update this page frequently with the best valid codes, so no need to go to shady coupon sites with clickbait and popup windows.
Regardless of which diet you choose, good luck, and thanks for stopping by Black Alliance!