Are you a Fidelity customer? If so, you can take advantage tax preparation offers from top brands including TurboTax & H&R Block. In fact, you can get up to a $20 discount or free TurboTax online products including Deluxe, Premier, and Self-Employed. (all TurboTax coupons here) Here's how to get the Fidelity TurboTax discount.
---
How to Get the Fidelity TurboTax Discount:
First, you'll want to log in to your account at Fidelity.com
Next, under Accounts & Trade, click on Tax Forms & Information like this: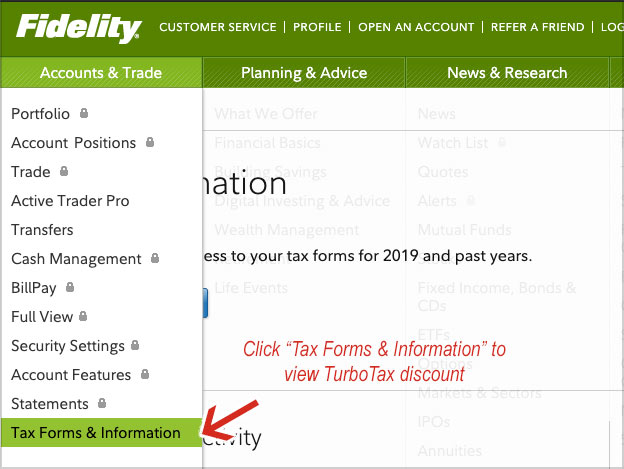 Scroll down that page and you'll see a Tax preparation offers section with links to TurboTax, H&R Block, and TaxAct discounts like this: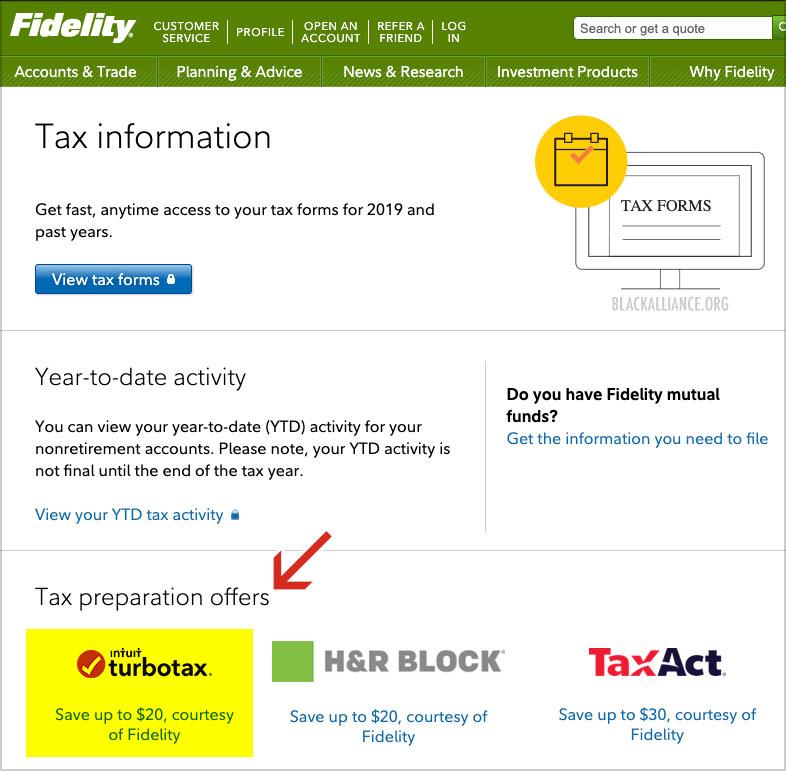 Click on the TurboTax logo where it says, "Save up to $20 courtesy of Fidelity"
You'll be brought to a page that gives details of the current TurboTax offer like this: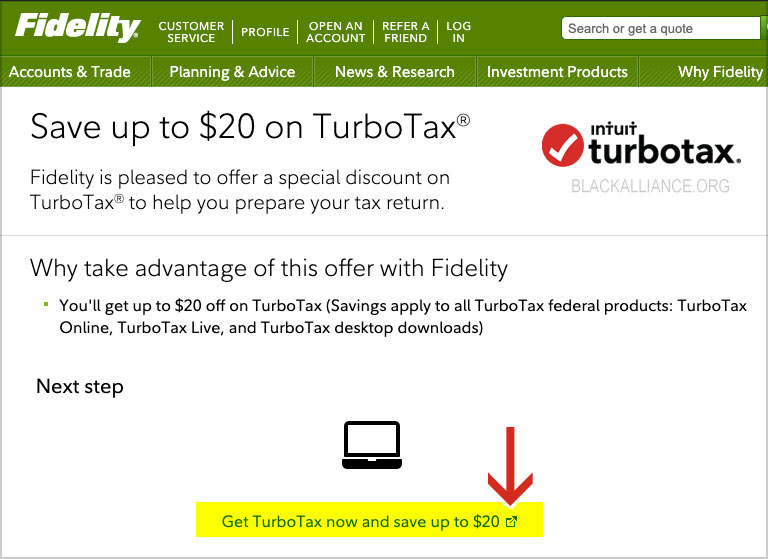 Scroll down and click on the link that says, "Get TurboTax now and save up to $20"
You'll be taken to an offer page at TurboTax.Intuit.com
No service code is necessary to get a discount on TurboTax through Fidelity.com.
---
Fidelity Free TurboTax
If you are a premium Fidelity client you may even qualify to get TurboTax Premier for free. If so, you will probably be notified both by email and in your account at Fidelity.com. Look for a message indicating that you can get TurboTax free starting in January.
To get Premier free, you may need to enter a service code at checkout.
*Related: Does Chase have a TurboTax Discount?
---
Is the Fidelity Offer the Best Discount for TurboTax?
TurboTax distributes one semi-exclusive offer for their premier affiliates, like Fidelity, to promote. Though you may see this offer promoted by various banks, financial institutions and tax blogs, it's the same discount pricing.
How much can you save on TurboTax through Fidelity? You can get up to a $20 discount on TurboTax Deluxe, Premier, and Self-Employed as a Fidelity customer.
Also, If you are in the military or USAA, you may be able to file your Federal and State taxes free with TurboTax!
---
Not a Fidelity Customer?
This is a great discount, but you don't have to be a Fidelity customer to take advantage of the same promotion for up to $20 off. The same discounted TurboTax online products are available though the coupon below: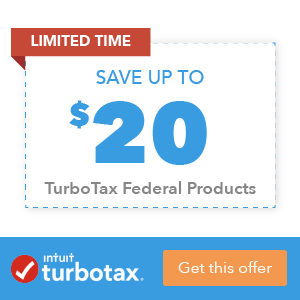 Tip: Fidelity TurboTax discount not working? If you were already logged into your TurboTax account, site security may be blocking the coupon. Try logging out of your account, clicking the coupon, and then logging back in!
---
More Discounts for Finance & Taxes
I hope you're able to go through your Fidelity account to get a great deal on TurboTax this year!
We also have more finance deals including discount subscriptions for Wall Street Journal and Barron's Magazine.
Thanks for visiting Black Alliance!