If you've used TurboTax you may not have even noticed the field to enter a "service code" at checkout. That's because you probably don't have one and are just happy to finish your dang tax return!
However, the option of entering a service code at checkout made me wonder whether I could get a discount on the total cost of filing with TurboTax. In short, the answer is both "yes" and "no." You can get a discount before filing, but no, you don't need to enter a service code. Here's how service codes work, and how to get the best price with a coupon when you eFile at TurboTax.Intuit.com:
---
First, Best Discounts, Coupons for TurboTax in 2021: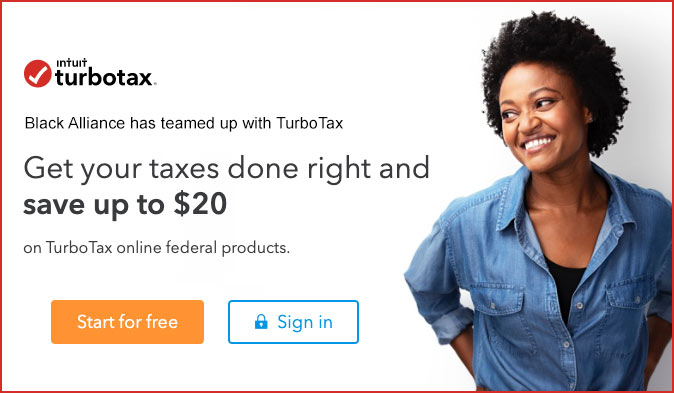 Pre-Order TurboTax: $10 Off – CD/Download. Deluxe, Premier, Self-Employed. Through 12/15/20
TurboTax: $10-25 Off! – Online: Deluxe, Premier, and Self-Employed. No service code needed. Click to apply discount – Starts 1/01/21
FREE Edition: For simple 1040EZ taxes – 2021
Live: $10-25 Off – Adds help from a CPA or tax professional – 2021
Deluxe: $10 Off – Most popular Turbo Tax edition. Apply coupon – 2021
Premier: $15 Off – Best for Investments and rental property. 2021
Self-Employed: $25 Off – Personal and business income, freelancers.
Military Free – Active-duty military can file State for free! 2021
---
This Coupon Works for Deluxe, Premier, Self-Employed!
This coupon instantly applies a discount to TurboTax Deluxe, Premier, and Self-Employed Editions. Just click to view the discounted pricing like this: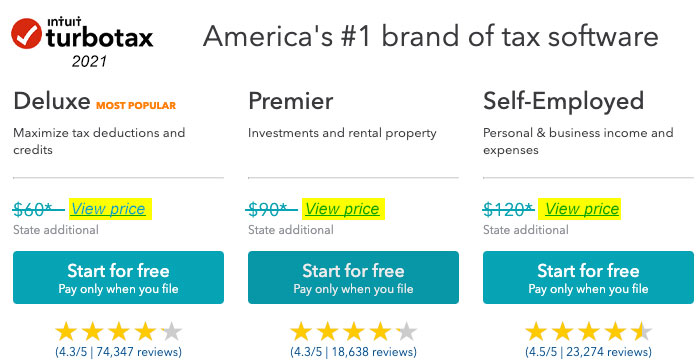 Tip: Not working? If the discount doesn't get applied you may need to log out of your TurboTax.Intuit account as their site security might block the discount. Just log out, click the coupon, and then log in again!
Don't need the features of Deluxe or Premier? If you have simple taxes and file with 1040EZ, you can also check out their Free Edition.
---
What Are TurboTax Service Codes?
Service codes are 10-12 character codes issued specifically by TurboTax (Intuit) to their customers and are only valid for one-time use. A common reason for a service code to be issued is because of a specific customer complaint. For example, I knew someone who complained that the pricing or claim of "free" was misleading so they were sent a $10 off service code to help compensate them.
Anyway, service codes are sent to customers via email and can be used towards TurboTax online or download products up until October 15th of that year, after which they expire.
Service codes should not be confused with verification codes that TurboTax will email you for security reasons.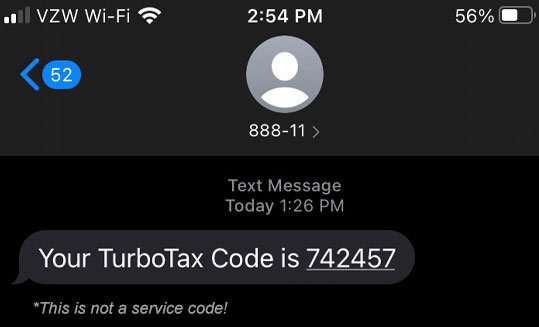 Once used, the service code is then invalid for future use. So, if you see TurboTax service codes on coupon sites or Reddit they are likely invalid or expired! I have never found a working service code online, so don't waste your time.
Tip: If you have a problem or want to request a service code login to your turbotax.intuit.com account and click "contact" at the top of the screen.
If you are simply here to get the best discount on TurboTax, then click here to apply discounted pricing. Once you do, the discount will apply the service code directly to your TurboTax order:
---
Where Do I Enter a Service Code?
If you have been personally issued a unique service code, here's how to use it: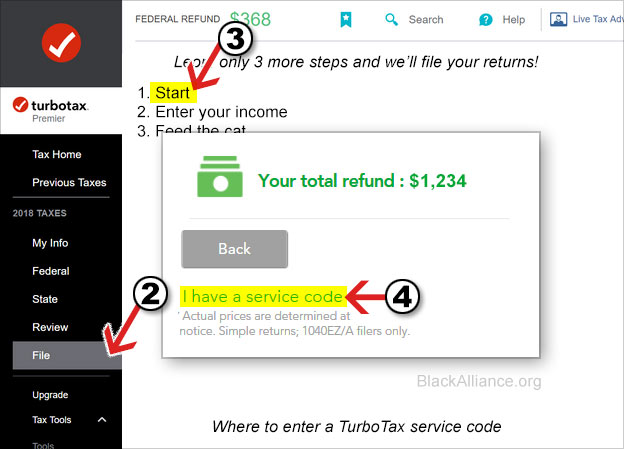 Sign in to your account at turbotax.intuit.com
Select File from the left navigation menu
On the screen that says, "…only x more steps to file your returns," click Start by Step 1
You will be shown an itemized list of all fees associated with your tax return. Scroll down to the bottom of the page and select I have a service code
You will receive a prompt to enter your service code
Help, my service code doesn't work! The most common reason for a code not to work is that it has already been used by another customer, or has expired. If you are sure that you have been issued a service code directly by TurboTax and it doesn't work, contact customer service at 1-800-446-8848.
Now that you know what service codes are and how to use them, I'm happy to tell you some good news: you don't need to enter a service code to get most discounts!
---
What Is the Best Coupon or Service Code?
Only one sanctioned TurboTax promotion is distributed to their affiliates at a time, and generally, the best discount is found early in the tax season. Their featured promotion usually saves you up to $20 in January and February but drops to about $10-15 after March 15th.
So, for the best savings on TurboTax, file early if possible!
Tip: If you are a small business owner, we also have a pretty sweet deal on Quickbooks. Get up to a 50% discount for 3 months with no promo code needed!
Speaking of discounts, we also have some amazing deals for subscriptions to the Wall Street Journal and Barron's Magazine. Get your first month for as little as $1!
---
Why You (Probably) Don't Need a Service Code
The good news is that you can probably just ignore the service code field altogether when completing your taxes, as you usually don't need to enter a code to get the best price.
That's because TurboTax gives a number of blogs and websites "coupons" to promote with special pricing, and simply clicking one of these promotional links, the code will apply discount pricing at turbotax.intuit.com: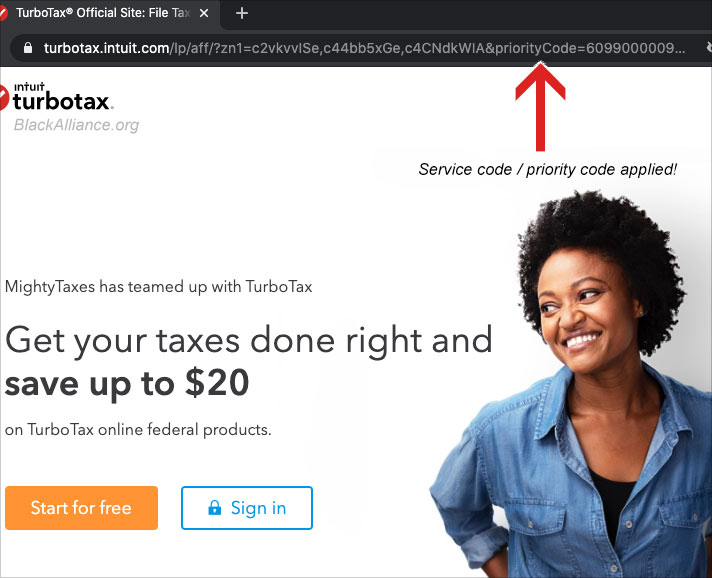 What TurboTax software is discounted when you use a service code? The featured code or coupon will apply a discount to the most popular Turbo Tax Online products including Deluxe, Premier, and Self-Employed.
Notice above how the code has been applied automatically? Much easier than entering a 10-character code!
---
TurboTax Coupons & Service Codes: Because the Government Takes Enough Already!
After the Civil War Union leaders floated the idea of giving newly freed black families 40 acres of Southern land and a mule as a form of reparations.
Well, that never happened, so why ever give the government or other companies who profit from taxation more than necessary?
TurboTax helps you find every possible tax deduction, and Black Alliance can help save you up to an extra $20 on TurboTax Deluxe, Premier, and Self-Employed. Thanks for stopping by, and I hope we were able to save you some money!