TurboTax Self Employed Edition has become increasingly popular as more people become freelancers, side-hustlers, and small business owners. If you are any of these, then your needs won't be fully met by the Deluxe and Premier Editions of the leading tax software, as you need industry-specific personal attention.
TurboTax is the most popular tax software for the self-employed because they best understand the needs of the self-employed and small business owners, and can help you find every tax deduction that you are entitled to. In fact, they call their Self-Employed Edition, "The perfect personal and small business tax solution."
The best part might be that TurboTax Self Employed costs a fraction of what a CPA might charge you, so you get to keep more of your hard-earned money.
Here's more about Self-Employed including the cost, whether you can get it free, coupons, and how to get the best price.
So, exactly how much does TurboTax Self-Employed cost?
---
TurboTax Self-Employed Cost: (2021)
The price depends on three things:
When you e-file – TurboTax products, including Self-Employed, are cheaper early in the tax season
Whether You want "Live" – TurboTax offers the optional help of a real CPA or tax pro, but it's an extra expense
Which promotion you click on – Coupons are available to drop the price of TurboTax's most popular online products including $20 off Self-Employed
Here is the current online pricing for TurboTax Self-Employed: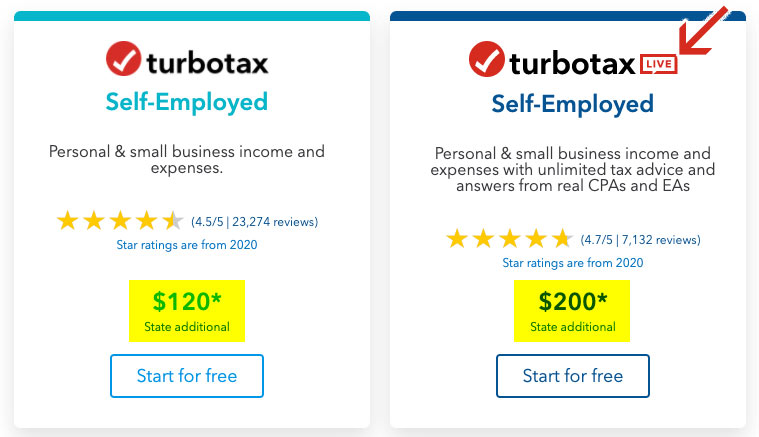 TurboTax Self Employed: $120*
TurboTax Live Self Employed: $200*
TurboTax Self-Employed Live includes unlimited assistance and advice from a real tax professional, which adds an additional $80 to the cost.
Tip: Look for a price drop early in the tax season. You can save up to $20 on Self-Employed when you file before March 15th!
*This price includes free Federal e-file but State e-file is an extra $45.
Get up to $25 off this price when you use this coupon!
---
Is TurboTax Self-Employed Free?
The Self-Employed Edition is not free. TurboTax does have a "Free" Edition, but it's limited features are not adequate for those who are self-employed. That's largely because you can't enter a 1099-Misc form, and the Free Edition lacks navigation through deductions that you would likely qualify for being self-employed.
A free alternative to the Self-Employed Edition is the TurboTax Freedom Edition. However, to use Freedom you have to meet some requirements including either an Adjusted Gross Income (AGI) under $33,000, are active-duty military, or qualify for the Earned Income Tax Credit (EIC).
---
TurboTax Self Employed Coupon
TurboTax distributes a "coupon" link or banner with promotional pricing to a number of coupon and tax-related blogs.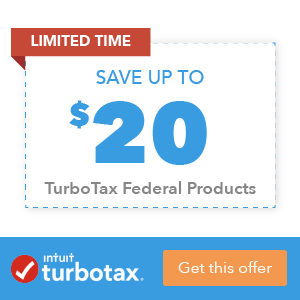 By clicking on the coupon banner it will apply up to a $20 discount to TurboTax Self-Employed like this: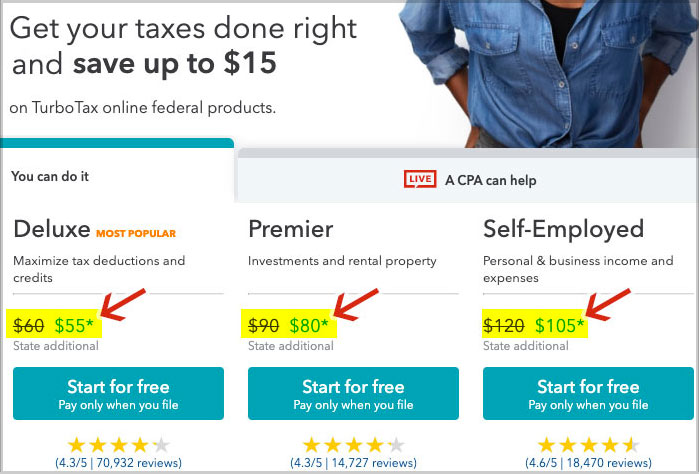 Once again, you'll save money by not procrastinating, as the best coupon and promotional pricing for Self-Employed ends on or about March 15th. After that date the discount from the coupon will drop to $10-15 off.
*View today's promotional pricing
If you are a small business owner, Intuit also has a coupon for 50% off Quickbooks!
---
Self-Employed Tax Forms:
What tax forms should you expect if you are self-employed? TurboTax Self Employed Edition will walk you through entering your 1099-Misc, 1099-K, or other forms.
---
TurboTax Self-Employed: Work Smarter Not Harder
TurboTax Self-Employed will save you a lot of money compared to meeting in-person with a CPA, but it isn't the cheapest tax software out there for freelancers and the self-employed. However, I think of buying tax software as an investment.
Consider that a single missed deduction could cost you hundreds of dollars, and you see the value of not selecting your tax software based solely on price.
If you do choose to purchase TurboTax Self-Employed, I hope that we were able to save you money and get you the best price! Either way, thanks for stopping by Black Alliance!
More coupons: 50% discount on a WSJ or Barron's subscription or try Noom Coach free!