TaxAct has established itself as one of the leading names in online tax software. While TaxAct is no longer free for most people, they've upped their game and now offer much more robust products including a Self-Employed edition. So, while you now have to pay, it's actually better and you'll probably get a bigger refund.
So, how much does it cost to file your taxes with TaxAct? That depends on whether you choose to file online or download software, which Edition you need, and when you e-file your return. Prices are lower at the beginning of the tax season, but if you can't file early, don't worry.
Here is the updated discount pricing for 2022 including state filing fees and Professional editions. (Hurry, as these prices may increase after March 15th, 2022!)
TaxAct Pricing + State Fees for 2022:
| | ONLINE | DOWNLOAD* |
| --- | --- | --- |
| FREE | $0 (+ $34.95 per state) | NA |
| BASIC | NA | $39.95 (+ $50 per state) |
| DELUXE | $24.95 (+ $44.95 per state) | $119.95 (includes 1 state) |
| PREMIER | $34.95 (+ $44.95 per state) | $129.95 (includes 1 state) |
| SELF EMPLOYED | $64.95 (+ $44.95 per state) | $139.95 (includes 1 state) |
*TaxAct download Deluxe, Premier, and Self Employed include up to 5 federal e-files plus 1 state return.
TaxAct Xpert Assist™ is currently available as a free add-on service with any online product providing unlimited on-demand support from tax experts 7-days a week. Learn more at TaxAct.com
Amended returns after the tax deadline are also subject to a one-time variable fee.
If there are any additional coupons, we'll post them on this page.
---
Professional Pricing:
TaxAct Professional edition is popular for tax professionals and CPAs. You can try it free before buying, and take advantage of cheaper pricing early in the tax season:
TaxAct Professional Cost:
Professional Federal: $150 per edition + $35 per state + $15 per e-file
Pro 1040 Bundle: $725 unlimited 1040 E-filing
Pro Complete Bundle: $1325 for all Federal and State editions + unlimited E-filing
View discount pricing at TaxAct.com/professional
---
TaxAct Is Cheaper!
TaxAct prides itself on being a cheaper alternative to filing your tax return. Here's the latest price comparison to TurboTax as of 2022: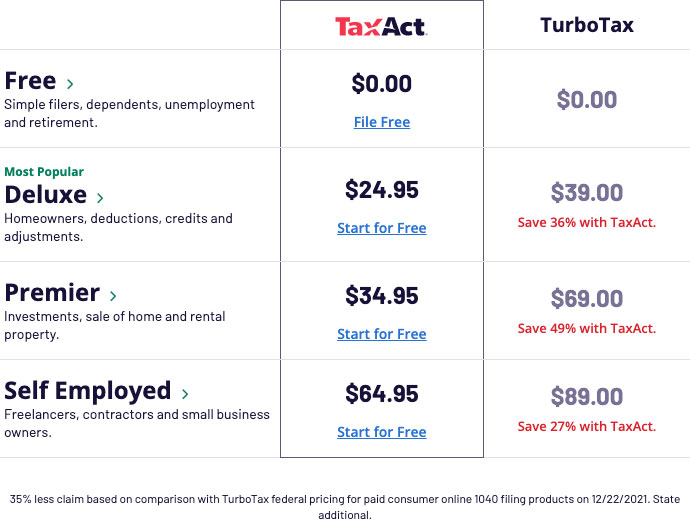 Tip: You can pay your product fees for Deluxe, Premier, or Self-Employed in advance of filing to take advantage of this cheaper pricing.
---
Not Sold on TaxAct?
While TaxAct is a popular choice for filing taxes online and up to 35% cheaper than the industry leader, it still might not be your choice. For that reason, please check out our coupons for Turbo Tax and H&R Block so that you get the best price possible whether you use TaxAct or not.
*Related: How Much Does Turbo Tax Cost?
Thanks for visiting Black Alliance!