Signing up for a monthly meal-delivery diet like Nutrisystem is a big leap. That's because, at about $300 per month, each delivery is going to be one of the bigger recurring charges on your credit card. If you are thinking of joining Nutrisystem you might know that they often run more than one promotion at a time.
So, how do you join at the best possible price? Here's how much Nutrisystem costs per month plus how to get the lowest price when you join using the 50% off sale, promo codes, and discount Nutrisystem gift cards from Costco!
---
1. Nutrisystem Cost With "50% Off" (Best Sale)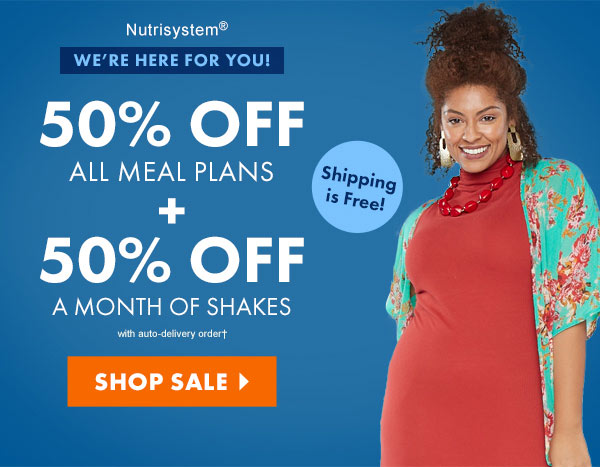 Skip the $50-100 off coupons because they only apply to the first 2 months. If you don't quit Nutrisystem you'll want to think long-term here, and the 50% off sale locks-in the best price per month and it doesn't ever expire.
Here's how much Nutrisystem costs after the "50% off" discount: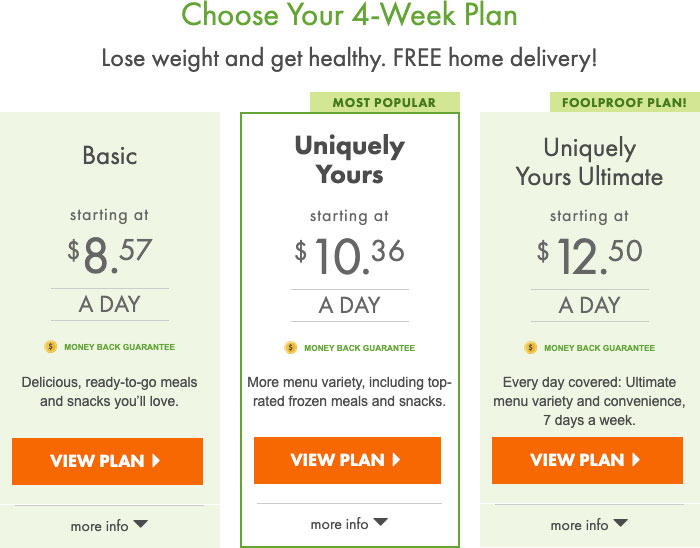 Nutrisystem Monthly Rates for 2020:
Basic: $239.99 per month
Uniquely Yours: $289.99 per month
Uniquely Yours Ultimate: $349.99 per month
Expensive? Nutrisystem's most popular plan, Uniquely Yours, costs $67 per week and $3480 per year at the current monthly rate. That sounds expensive but it's probably a lot less than you are currently spending on food!
Tip: Nutrisystem for Men costs $1 per day more because it includes one extra snack each day. You can see pricing for men's plans here.
Not bad, but you can get a lower price per month when you opt to pay for your first 2 months in your initial payment. Here's how:
*Note: Nutrisystem claims that you are getting a 50% discount but that's based on the full retail price of one month with no auto-delivery, which I assume no one actually pays for!
*Related: How Much Does the South Beach Diet Cost?
---
2. Choose to Pay for 2 Months at Signup
While Nutrisystem advertises 50% off in their banners and commercials, you don't really get the full 50% off unless you choose to pay for 2 months in your first payment.
You'll find the option to do so under, "3. My Delivery" just after you choose a plan. Here's what it looks like:
Just click, "Unlock Offer" and the price will drop by about $1 per day. That $25 or so per month in savings really adds up if you stay with the program!
The next way to reduce the cost of Nutrisystem is to use promo codes.
*Related: How Much Does Noom Really Cost Per Month?
---
3. Use Promo Code(s) for Savings + Free Food!
As we mentioned, those "dollar-off" codes often don't work on top of the discount from the 50% promotion. However, the promo codes for free food do work. The best part is that you can use more than one on your first order, so don't be shy!
Check out how I was able to use 3 promo codes at once when signing up for Nutrisystem's Uniquely Yours Plan!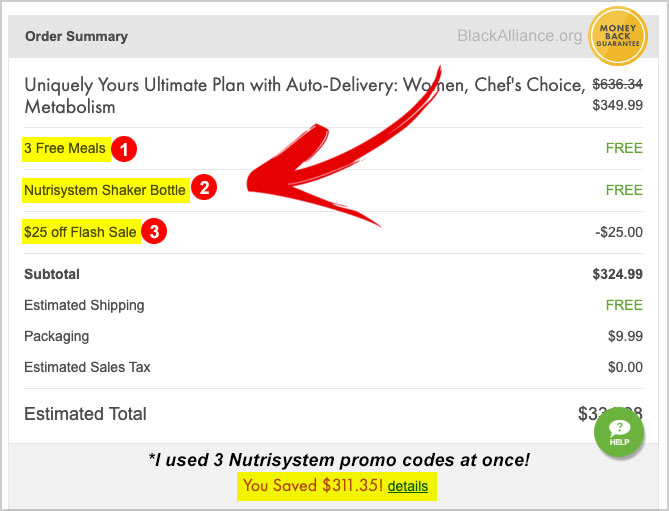 Pretty crazy, right!
Tip: Remember that you'll have to buy some groceries to supplement the food that Nutrisystem sends you. What you spend on food is mostly a personal decision, but you'll want to factor those weekly DIY "Flex Meals" into your monthly food budget!
*We also have coupon codes for the Noom app!
---
Bonus Savings: Use Costco Nutrisystem Gift Cards!
OK, so you thought we were done? The good news is that there's one more way to drop the price of signup: Costco Nutrisystem Gift Cards.
If you are a Costco member you can get $100 Nutrisystem gift cards for $75 each. (or less!)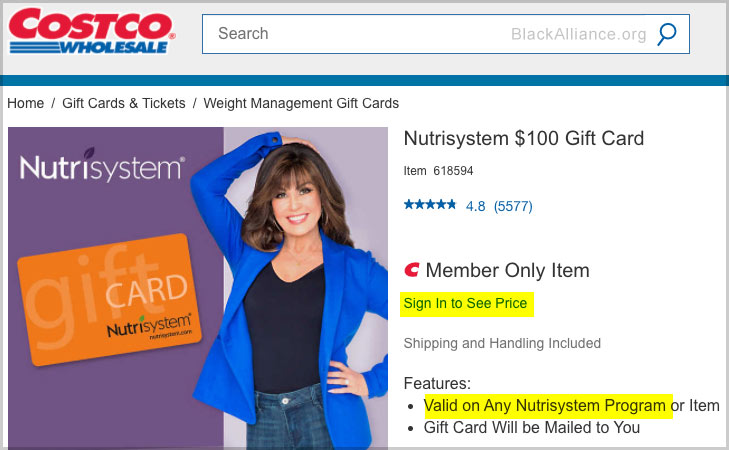 They usually sell these gift cards at Costco stores, but they also have them online here at Costco.com. You can choose to have them emailed to you as eGift cards, or actually mailed via USPS.
Just buy 1-3 to use towards your first order and save a bundle!
Quick math: If you use 3 $100 Nutrisystem gift cards from Costco you'll save an extra $75+ when you signup for Nutrisystem!
---
Conclusion
As you can see, there are a few ways to lower the monthly cost of Nutrisystem, so you shouldn't just go directly to Nutrisystem.com to join. To summarize, you can get the best Nutrisystem cost per month if you:
Join with the 50% off sale
Choose to pay for 2 months upfront
Use 2+ promo codes
Use Costco Nutrisystem gift cards (if you're a member)
That's it! I hope you not only learned how much Nutrisystem costs, but also how to get the best possible price at signup and on your monthly rate. Thanks for visiting Black Alliance!