Introduction
"An executive order is an official document signed by the president that declares government policy. In an executive order, a president is giving instructions to government agencies and departments about how to operate in a certain area. An executive order is legally binding … Executive orders cannot reverse a law passed by Congress. Limited in scope, their sweep isn't as broad as a piece of legislation."1
During the week beginning January 22, 2017 President Trump signed a series of executive orders pertaining to immigration. This memorandum provides a summary of those orders, an analysis of their impact, and our observations regarding their implementation thus far. It should be noted that as legal challenges to the executive orders proceed, aspects of this analysis may shift. The most striking aspects of the executive orders have been bolded and highlighted.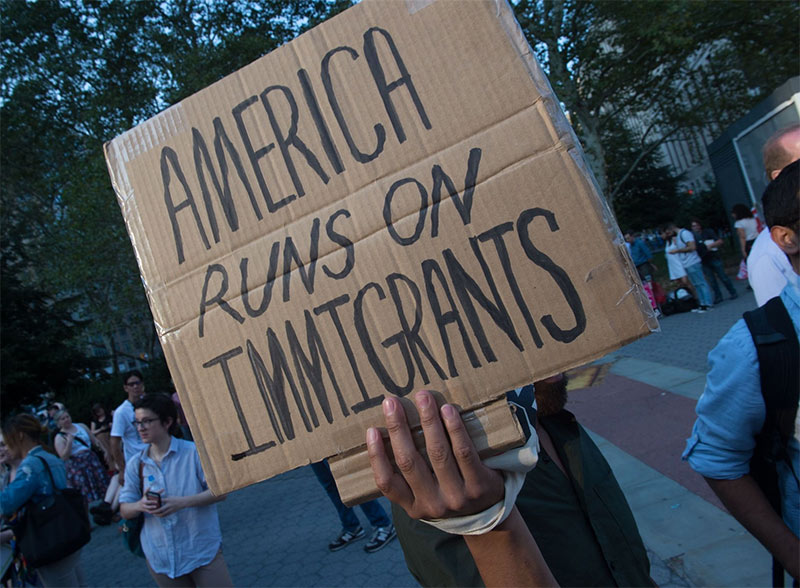 I. Executive Order: Border Security & Immigration Enforcement Improvements
On Wednesday, January 25, 2017, the President issued the first of several executive orders on immigration to be signed last week – the executive order on "Border Security and Immigration Enforcement Improvements." This order called for the following2:
• Construction of a wall on the U.S./Mexico border. The Department of Homeland Security has been directed to evaluate, plan and marshal Federal funds
1 Kevin Liptak, "Executive Orders: What Trump can and can't do." CNN.com http://www.cnn.com/2017/01/23/politics/donald-trump-executive-orders-executive-actions/ (1/29/17) 2 Whitehouse.gov (1/29/17) https://assets.documentcloud.org/documents/3418691/Executive-Order- Border-Security-and-Immigration.pdf
To construct the aforementioned wall. In subsequent news interviews, the Trump Administration suggested that the wall will be paid for via a 20% tax on Mexican imports.
Detention of non-citizens apprehended on suspicion of violating any Federal or State law pending proceedings regarding those violations. These violations are not limited to immigration related offenses such as border crossing or immigration fraud; they also include state and federal criminal offenses. (one of the laws commonly referred to as "the 1996 laws")
Expedited determinations of eligibility to remain in the United States for those apprehended individuals.
After criminal and civil sanctions – including incarceration – "promptly" deport those whose claims to stay in the U.S. have been invalidated.
Re-establish the Secured Communities Program by encouraging and enabling state and local law enforcement to the "maximum extent of the law," [permitted under INA section 287(g)] perform the functions of immigration officers.
Expansion of additional local-ICE collaboration programs including federal/state partnerships to enforce immigration "priorities," and state monitoring and detention programs consistent with federal immigration laws and priorities.
Hiring 5,000 new Border Patrol agents.
Construction of new detention facilities at or near the U.S./Mexico border.
Assignment of asylum officers to immigration detention facilities to accept asylum referrals and conduct credible fear determinations and to ensure that the parole and asylum provisions of Federal immigration law are not exploited to prevent the removal of noncitizens.
Issuance of new policy guidance terminating the "catch and release" practice, whereby non-citizens are paroled into the U.S. after apprehension.
will also affect green card holders accused of a deportable offense under the
Illegal Immigration Reform and Immigrant Responsibility Act of 1996
2. Hence, this provision
II. Executive Order: Enhancing Public Safety in the Interior of the United States3
Another executive order signed on Wednesday, January 25 pertained to "sanctuary cities," and outlined new immigration enforcement priorities. In particular, this order directed the Department of Justice to:
• •
*Coupon: Wall Street Journal Subscription: 50% Discount or Byte: $200 Off! | Barron's Subscription: 50% Off!, Weight Watchers Deals | TurboTax Exclusive!
Ensure that states and municipalities that fail to comply with immigration and other federal laws do not receive Federal funds.
Prioritize removal (deportation) of non-citizens who:
(a) Have been convicted of any criminal offense;
(b) Have been charged with any criminal offense, where such charge has not been resolved;
(c) Have committed acts that constitute a chargeable criminal offense;
(d) Have engaged in fraud or willful misrepresentation in connection with any official matter or application before a governmental agency;
(e) Have abused any program related to receipt of public benefits;
(f) Are subject to a final order of removal, but who have not complied with their legal obligation to depart the United States; or
(g) In the judgment of an immigration officer, otherwise pose a risk to public safety or national security.
Executive Order: Protecting the Nation from Foreign Terrorist Entry into
the United States
III.
On Friday January 27, 2017 President Trump issued a second round of executive orders, largely pertaining to refugees from majority-Muslim countries. These orders:
Ban citizens from seven countries including members of international organizations are exempted).
Temporarily halted admission of all refugees to the US for 120 days pending State Department review of the application and screening process for refugees admitted to the U.S. 3 Whitehouse.gov https://www.whitehouse.gov/the-press-office/2017/01/25/presidential-executive-order- enhancing-public-safety-interior-united
Iraq, Syria, Iran, Libya, Somalia,
Sudan and Yemen, from entering the U.S. for at least 90 days. (Diplomats and
3.
Capped the number of refugees allowed admission to the U.S. in 2017 at 50,000. This is less than half the previous cap of 110,000 established under President Obama.
Prioritizes refugees on the basis of religious persecution, "provided that the religion of the individual is a minority religion." In practice, this provision will make it easier for Christian refugees from Muslim dominated countries to receive refugee status while Muslims seeking refuge will be excluded.
Bans all Syrian refugees until further notice.
Calls for the Secretaries of State and Homeland Security, Director of National Intelligence, and FBI Director to develop and implement new immigration screening procedures.
IV. Analysis of Border Security, Immigration Enforcement, & "Sanctuary Cities," Order
Enhanced Enforcement of 1996 Laws. Trump's executive orders went in affect immediately upon being signed; hence immigration agents immediately began enforcing the orders. While public attention has focused on the "border wall" order, we expect the other provisions to have a larger, more immediate impact on Black immigrants. In particular, the provisions permitting detention and deportation of non-citizens that are merely accused of a criminal offense are particularly alarming. This provision along with those encouraging local/ICE collaboration programs, the hiring of thousands of new ICE officers, and the existing "1996 laws" will likely result in scores of Black immigrants being placed in deportation proceedings as a result of criminal contact.
coupon102
Expanded Enforcement Priorities. Like previous administrations, this administration is entitled to establish immigration enforcement priorities. Nonetheless, the new enforcement priorities are egregiously broad. In its broadest interpretation, all
These provisions are troublesome as public defenders have become adept at assisting their clients with avoiding convictions for deportable offenses. We expect that this provision
will face constitutional challenges as it raises significant due process concerns.
(Il)legality of Sanctuary Cities. The legality of the sanctuary cities order is questionable. For the federal government to withhold funds from a state or municipality it must show that the funding being withheld is related to the rationale for the sanction. For example, the federal government cannot withhold funds for education because as a penalty for noncompliance with federal immigration priorities.
noncitizens that have committed any element of a criminal offense, regardless of
whether they actually face criminal charges, are an enforcement priority.
4. V. Immediate Impact of 'Foreign Terrorist Entry' Order
As a result of Friday's executive order, migrants that were in transit to the U.S
were prevented from entering the U.S.
In some instances, migrants were detained at airports. In others, they were pulled off airplanes or prohibited from boarding flights to the U.S. The White House has said that lawful permanent residents will be expeditiously interviewed and allowed entry into the U.S. if it is determined that they are not a national security threat.
On Saturday January 28, it was reported that over 200 migrants that were in transit to the U.S. as the executive orders were being signed, were detained at airports across the country. That same day, lawsuits were filed on behalf of two of those migrants that were being held at JFK (airport) and the entire class of recently arrived migrants from affected countries that were detained, by legal organizations including National Immigration Law Center (NILC) and the American Civil Liberties Union (ACLU). Shortly before 9PM on that date, a federal judge in Brooklyn, NY issued a ruling temporarily halting aspects of the executive order.
The judge's ruling prohibits the federal government from removing those 200 + affected migrants and suggested that the federal government should establish a basis for their detention and removal. The judge's ruling did not require the federal government to allow those affected migrants to enter the U.S. As a result, many of those migrants remain detained at airports. To date, legal organizations have continued to file lawsuits on behalf of those detained.
In a press statement issued on January 29, 2017 DHS Secretary John Kelly expressed that President Trump's executive order on 'Foreign Terrorist Entities' was not intended to impact lawful permanent residents of the U.S. According to Sec. Kelly,
VI. Conclusion
It is likely that immigration policy and legal landscape will shift as the impact of the President's executive orders become clear and legal challenges are pursued. Black Alliance (coupons) will continue to provide updates and analysis as information becomes available.