Advance Auto Parts is the #1 destination for automotive parts and car batteries online. They've got some great promo codes out there, but none of them work towards batteries. No problem! Here's how to get a $5 discount on any battery at Advance Auto now:
---
Advance Auto: $5 Off Battery Coupon!
Batteries are a low profit-margin item and excluded from virtually every Advance Auto Parts promotion and coupon code. However, there is one way to get a $5 coupon for batteries right now.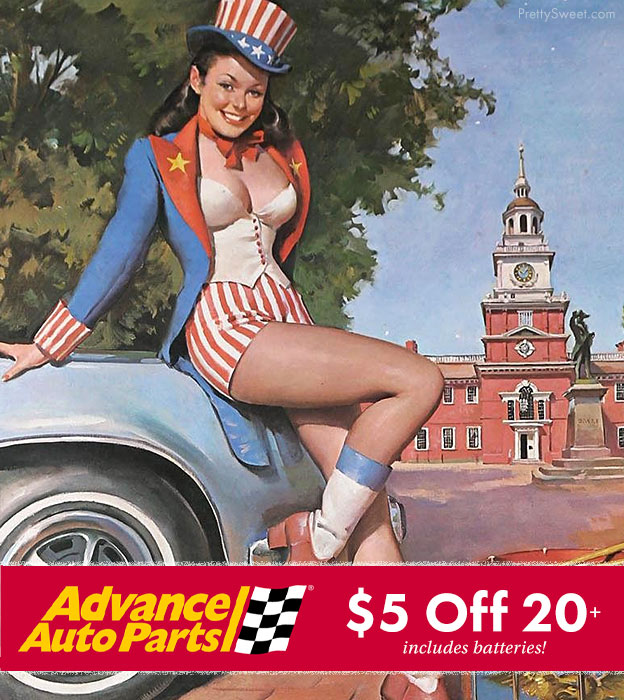 Join Advance Auto's free rewards program, SpeedPerks!
It just takes a minute to join, and after entering your email address you'll get a $5 off $20 coupon which includes batteries!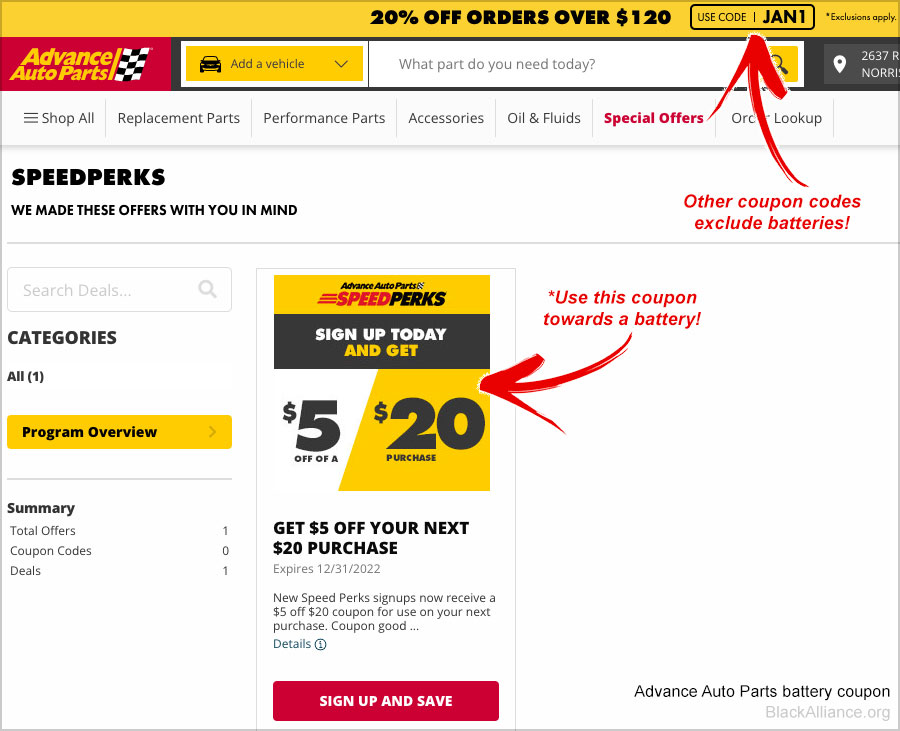 Click above to learn more and get a $5 coupon that you can use towards a battery or anything else now! You can also see their on-site coupons here, as there might be other good battery deals.
Tip: All battery purchases from Advance Auto Parts also include free installation and testing!
---
Other Advance Auto Coupons Don't Work Towards Batteries
Batteries are usually excluded from every promo code out there. Here's proof: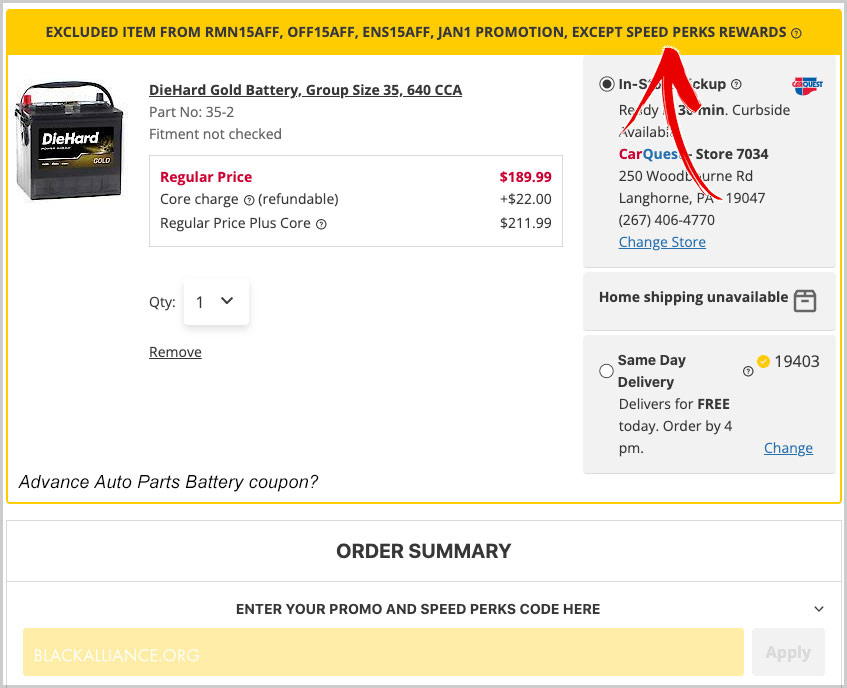 As you can see, I tried the most popular coupon codes that I could find for 15-25% off, and none of them worked towards the battery that I was buying.
However, after joining SpeedPerks I
---
+$5 for every $50 Spent (Including Batteries)
So, the $5 coupon is great, but you'll also get SpeedPerks rewards points when you buy the battery or anything else at AdvanceAutoParts.com. In fact, you'll get another $5 for every $50 you spend on your next order.
This means that if you buy a $200+ battery in this order, you can use the $5 coupon plus get up to a $20 credit towards your next order!
So, let's say that you'd like to buy 2 batteries. Here's how to get coupons to use on batteries at Advance Auto:
Join SpeedPerks and use the first $5 coupon toward a battery
Then, use the SpeedPerks rewards you just earned towards another battery! (Or, anything else)
So, you can save a lot of money by spending a minute to join SpeedPerks. It's the only way to get a coupon that works towards batteries at AdvanceAutoParts.com!
*More coupons: TurboTax | Adam & Eve | Easy Canvas | WSJ
---
Batteries Are Pickup / In-Store Only
The last thing to know is that Advance Auto Parts does not ship batteries for safety reasons. So, you'll need to choose "in-store pickup" and choose a store location if you are shopping online.
If you shop in-store, you can use your SpeedPerks coupons right from the Advance Auto Parts app.
OK, so now you know how to get a coupon that works towards batteries at Advance Auto. Thanks for stopping by!